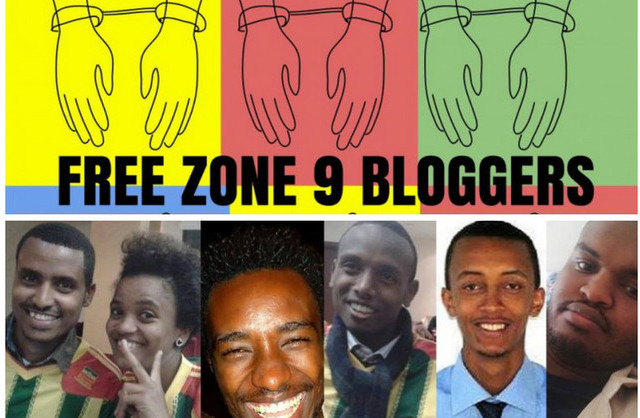 16 June 2014
It has been 54 days since six members of the Zone Nine blogging collective and three journalists believed to be associated with the group were arrested in Addis Ababa, Ethiopia. The group formed in 2012 in an effort to report on and increase public discussion about political and social issues affecting a diverse cross-section of Ethiopian society.
On their Facebook page, they describes themselves as young Ethiopians seeking to use fact-based reporting and analysis to create a new, more nuanced narrative of life in Ethiopia today:
"Zone9 is an informal group of young Ethiopian bloggers working together to create an alternative independent narration of the socio-political conditions in Ethiopia and thereby foster public discourse that will result in emergence of ideas for the betterment of the Nation"
The bloggers have appeared in court at four times since their arrest on April 25, 2014 — their next court date has been set for July 12, 2014. Each time, police have asked for more time to carry out their investigation of the group. Although they have been informally accused of "working with foreign organizations that claim to be human rights activists and agreeing in idea and receiving finance to incite public violence through social media," they have been issued no formal charges as of yet. Close friends and allies of the group fear that they will be charged with terrorism, similar to journalists Eskinder Nega and Reeyot Alemu, both Ethiopian journalists who have been in prison since 2011.
Read more at Global Voices Online.

—
Related:
Investigation stalls in case of nine detained journalists and bloggers (RSF via Reuters)
Join the conversation on Twitter and Facebook.