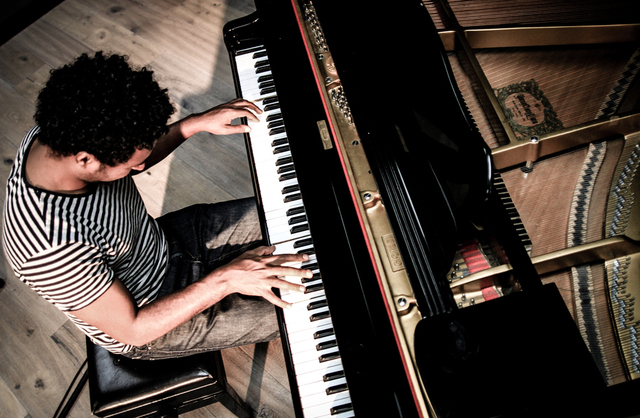 Tadias Magazine
By Tadias Staff
Published: Monday, June 16th, 2014
New York (TADIAS) — Learning how to play the krar, a five stringed traditional Ethiopian lyre, at age 8, Kibrom Birhane found himself enthralled by Orthodox chanting. "Always it moves me when I hear music," he says. And from that time on he knew he wanted to pursue a career in music. Kibrom eventually began teaching piano to other students for about three years before receiving a scholarship to attend the Los Angeles College of Music where he developed a passion beyond Ethiopian folk music, and became a songwriter and composer focusing on the fusion of Ethiopian folk with jazz and gospel sounds. His debut album entitled 'Kibrom's Tizita' was recently released by Tsehai Records, a new division of Tsehai Publishers. Kibrom describes his new album as "an exploration of Ethiopian heritage through folk and pop music with a jazz backbone."
Kibrom is also a record and mixing engineer and says he "learned to play all of these different roles over time, and with that came new innovations" in his music and sound. His solo pieces are among his most personal works, and Kibrom shares that they are "an expression of what I feel at the moment. I don't study or learn solos; I just play them."
Kibrom hopes to reach the younger generation with his music. He sees the power of fusion as a way to expose individuals to Ethiopian music while adopting a style that is already familiar to them (such as jazz). Kibrom has already garnered some success including writing the score for the documentary film 'Sincerely Ethiopia,' singing in the award-winning documentary 'Get Together Girls,' and composing music for the documentary on the African Union's 50th year celebration.
"The raw sincerity of Birhane's music seeks to make strong connections with listeners as they are transported on a musical journey. And a journey it is – Kibrom uses Ethiopian scales, which are rarely heard in Western music. The distinct nature of these scales makes for hypnotic listening," states Tsehai Records.
Watch: Zelesegna : ዘለሰኛ/ by Kibrom Birhane

Watch: Kibrom Birhane – Broken But Beautiful

For more information please visit www.tsehaipublishers.com, or email at info@tsehaipublishers.com. Kibrom's CD is also available on iTune , Amazon, Google Play and Rhapsody.
—
Join the conversation on Twitter and Facebook.