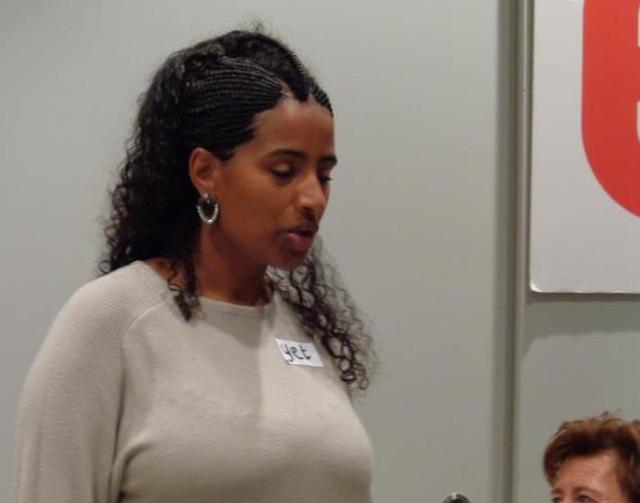 Kim Lewis
June 16, 2014
The Convention on The Rights of Persons with Disabilities, which held its seventh annual session in New York from June 10-12, gave delegates from around the world a chance to exchange ideas about programs and discuss how to improve the lives of the disabled and to raise human rights issues.
An attendee from Ethiopia, Yetnebersh Nigussie, talks about the challenges for the disabled in Ethiopia, where she says the disabled face prejudice and low-socio-economic status. She speaks from personal as well as professional experience. Nigussie is the executive director of the non-profit Ethiopian Center for Disabilities and Development in Addis. She is an attorney and she is blind.
Most of the disabilities in Ethiopia – such as child trachoma and polio – are preventable, says Nigussie. "But, once you are disabled, it's very tough to get included in the community, and to be able to contribute towards development."
In addition to physical and infrastructural obstacles such as lack of accessibility to buildings and services, Nigussie says obstacles persist in gaining access to information, communications, and transportation.
Other, more daunting obstacles are even harder to overcome, she says. People with disabilities in Ethiopia have no capacity to develop. A civil society law in Ethiopia prohibits organizations from receiving foreign funds for advocating disability rights.
"In Ethiopia, I'm not sure if you are aware, we have a new … law that was passed three years ago, and that law requires organizations receiving funds from abroad not to engage in disability rights and awareness. So, that becomes an impediment …," Nigussie says.
However, the human rights advocate noted Ethiopia's government has passed other recent laws that require the inclusion of people with disabilities in decision-making policies, and employment. Nigussie says Ethiopia's parliament has developed a checklist to hold decision-makers accountable for what they are doing to include people with disabilities
The downside has been, she points out, is the checklist is ineffective when it comes to civil society. The government is trying to put in place systems and policies to promote the rights of persons with disabilities, but there is no real enforcement, she says. What is needed is a strong and vibrant voice for persons with disabilities, not just advocacy groups.
—
Join the conversation on Twitter and Facebook.