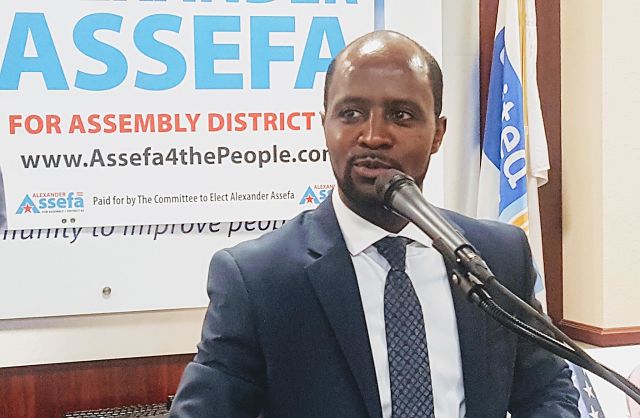 Tadias Magazine
By Tadias Staff
Published: June 16th, 2018
New York (TADIAS) – Ethiopian-American entrepreneur Alexander Assefa has won a primary election on his way to become a state legislator representing Nevada's 42nd assembly district.
"Thank you everyone who came out to celebrate my election with us," Alexander said via Facebook. "It's been quite a road." He added: "Now it's time to get to work and build a community that is inclusive and one that capitalizes on the richness of our diversity. Stay with me, fight with me & help me. Let's do this TOGETHER, as one people."
Alexander is set to replace Democratic Representative Irene Bustamante Adams after the 2018 November elections. Members of the Nevada State Assembly serve two-year terms.
According to the Nevada Independent "the small business owner and Ethiopian refugee who defeated two primary challengers was endorsed by the Assembly Democratic caucus, and received 55.3 percent of the vote. Assefa is the only candidate who will appear on the November ballot since no Republicans or third-party candidates filed to run for the seat."
Below is Alexander Assefa's bio courtesy of his campaign website:
ABOUT ALEXANDER ASSEFA
Alexander Assefa is a Democrat running for the Nevada State Assembly from the 42nd district. Alex was born and grew up in Ethiopia. While still a teenager, he was subject to life as a refugee in Kenya. In Nairobi, he had the opportunity to root himself in the Christian faith while he lived where refugees are not necessarily welcomed, often faced persecution and intolerance. Harbored in his church family, he avidly studied the bible. He then went on to serve his fellow refugees in various roles in the church, including in the choir and as a bible study leader at several locations in Nairobi.
In the year 2000, Alex immigrated to the United States and was resettled in Alexandria, VA. He learned English as his 3rd language and attended TC Williams High School. He then moved to Columbus, OH, where he graduated from high school. Alex attended flight school at Averett University in Danville, VA and became a pilot. He continued his education to earn a Political Science degree.
Alex moved and permanently settled in Las Vegas in 2006, where he met his wife Zenash. He is a small business owner, who has created jobs for many working families in the Las Vegas area. He is actively involved in his community, serves in his church and is a strong participant in the Clark County Democratic Party. Alex is a member of the Las Vegas Urban Chamber of Commerce.
Alexander Assefa is the founder and Chairman of the Clark County Democratic Party, Transport and Tourism Workers Caucus. In his role as a leader, he tirelessly advocates for working families and relentlessly fights for those who are marginalized and left voiceless in the political system. His participation in politics took root while he was in college, where he founded the college's first Democratic Club. Alex also served as a Treasurer and Senator in the Student Government Association. He went on to serve as a volunteer during every presidential election since 2004 and various other local campaigns.
Alexander Assefa currently serves on the Board of Advisors at the ECDC African Community Center, in the organization's mission to impact lives by resettling refugees from every part of the world. Prior to joining the Board of Advisors, Alex volunteered in this important organization by helping with job placement of newly arriving refugees in Southern Nevada. He is also community organizer in the East African community of southern Nevada, advocating for greater participation in the electoral system and active engagement in the affairs of his community.
—
You can learn more about Alexander Assefa at http://www.assefa4thepeople.com/assefa.html.
Join the conversation on Twitter and Facebook.