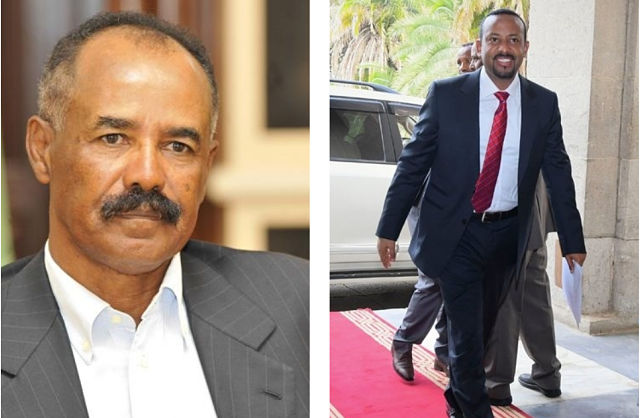 By ELIAS MESERET
Eritrea Sending Peace Delegation to Ethiopia
ADDIS ABABA, Ethiopia — Eritrea's president announced Wednesday he is sending a rare delegation to neighboring Ethiopia for peace talks, days after Ethiopia's new prime minister took a major step toward calming deadly tensions with its decades-long rival.
This is the first such delegation since 1998, when a border war erupted between the countries.
Eritrea's longtime President Isaias Afwerki noted "positive signals" in recent days from Ethiopia and said the delegation will "gauge current developments directly and in depth" to plan future steps. He spoke during a Martyrs Day celebration in the capital, Asmara.
Ethiopia early this month announced it will fully accept the terms of a peace agreement with Eritrea signed in 2000 to end the two-year border war that killed tens of thousands. The countries have skirmished a number of times since then. Ethiopia had refused to accept the deal's handing of key locations, including Badme, to Eritrea and continues to control that town.
The decision to fully accept the peace deal was the biggest and most surprising reform yet announced by Ethiopia's young new Prime Minister Abiy Ahmed. "The suffering on both sides is unspeakable because the peace process is deadlocked. This must change for the sake of our common good," Abiy's chief of staff, Fitsum Arega, said at the time.
Eritrea shortly after the announcement replied that it had always accepted the peace deal.
On Wednesday, Fitsum on Twitter said Abiy had "thanked and congratulated" Eritrea's president for the positive response and "expressed his readiness to welcome warmly and with considerable goodwill" the Eritrean delegation.
Eritrea's ambassador to Japan, Estifanos Afeworki, on Twitter said the delegation will pursue "constructive engagement." Eritrea's ambassador to Kenya, Byene Russom, called it a "new chapter of peace and reconciliation between the Eritrean and Ethiopian people."
Tiny Eritrea is one of the world's most closed-off nations, ruled by Afwerki since gaining independence from Ethiopia in 1993 after years of rebel warfare. Eritrea has become a major source of migrants fleeing toward Europe, Israel and African nations in recent years as human rights groups criticize its harsh military conscription laws.
—
Join the conversation on Twitter and Facebook.