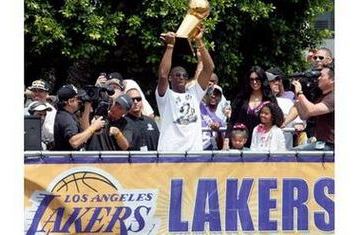 Above: The taxi driver who was attacked by a mob of Lakers
fans following the NBA championship received a $10k check.
KABC
LOS ANGELES
By Robert Holguin
The 41-year-old immigrant from Ethiopia has been driving a cab in L.A. for seven years, but on Thursday, the occupational hazards got wildly out of hand.
"I was thinking they can kill me, that's what I was thinking. I was scared. They burned the car, they shake the car, they turned over me," described Teferi.
Teferi was caught in the mayhem that erupted shortly after the Lakers won the NBA Championship. A mob attacked his cab, then pulled him from the driver's seat. After a few minutes, the cab was set on fire, and Teferi watched as it burned. His livelihood was destroyed.
Monday, the CEO of Staples Center's owner Tim Leiweke presented Teferi with a $10,000 check.
Watch video below or Read more.
Video: Cabbie from Lakers riot gets $10K donation