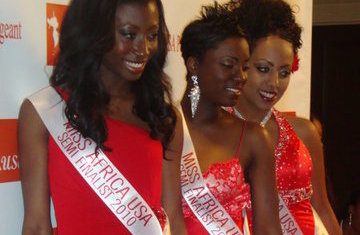 Tadias Magazine
Events News
Updated: Friday, June 25, 2010
New York (Tadias) – We recently received a call from one of our readers in Tennessee. "I have just learned that I have been selected as a finalist at the biggest pageant featuring African beauty queens in the United States," the young woman said. "And as part of my micro project for the competition, I need to publicize the upcoming event within my community."
23-year old Sofia Bushen will represent Ethiopia at the 2010 Miss Africa USA contest, scheduled for July 24, 2010 in Silver Spring, Maryland.
The pageant aims to foster confident African women leaders both at home and here in the U.S.
"The vision is for African girls in America to shine the spotlight on Africa," organizers say through their website. It helps the participants "tell their stories to the world and inspire one another, and build self esteem."
Past winners of the competition have gone on to join forces with major charity organizations in the U.S. such as Habitat for Humanity, Concern USA, Russell Simmons's Diamond Empowerment Fund, to help raise money for charitable causes benefiting communities in Africa and the United States. Most notably, Miss Teizue Gayflor, Miss Africa USA 2006-2007 toured Liberia in 2007 on a mission to promote education for school children and conducted a series of radio and television interviews calling for peace and reconciliation.
Video: Meet Sofia Bushen, finalist at the 2010 Miss Africa USA contest, in her own words

Learn more about Miss Africa USA at www.missafricaunitedstates.com.
Video: Miss Africa USA 08 Parade MISS ZIMBABWE, MISS LIBERIA AND MISS NIGERIA

Cover photo provided courtesy of Sofia Bushen.