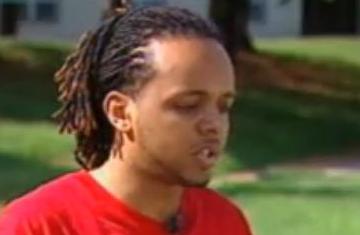 Above: Yonatan Tessema is a driver for ABC Express. He was
at Centennial Medical Center waiting on a client when police
mistook him for someone else. —- (Credit: News Channel 5)
Tadias Magazine
By Tadias Staff
Updated: Friday, June 25, 2010
New York (Tadias) – Police officers in Nashville were staking out a building for a man with dreadlocks who had a run in with the law earlier this week when they spotted cabbie Yonatan Tessema – an immigrant from Ethiopia who also wears dreadlocks – and mistakenly took him down. "It took a broken car window, along with some bumps and bruises before police realized they had the wrong man," News Channel 5 reports.
Tessema was at Centennial Medical Center waiting on a client who was at a doctor's appointment at around 2 p.m. Tuesday when he received a call alerting him that his customer was ready to go home. "I was running from the hospital to my car because I didn't want to keep my client waiting outside," Tessema said. "That's when they started flashing their lights, saying get the "F" out of the car, cursing."
"Out the corner of my eye I could see a policeman running and he just knocked out my window," Tessema said. "And then they pulled the door open. Somebody grabbed me from the side. Somebody grabbed my legs and they just pushed me down to the ground."
Tessema said officers apologized profusely to him after learning they had the wrong person. "They just kept apologizing and the police officer who busted my window said get an estimate, get your window tinted and call me tomorrow and give me the estimate," he explained.
Police said there will be an internal review to make sure the officers involved followed department policy during this incident. "Everyone was acting in good faith. The officers were trying to take a bad guy off the streets. A really bad guy," according to Metro Police spokesman Don Aaron.
Watch: Innocent Man Mistakenly Taken Down By Nashville Police

Video: Via Nazret.com.