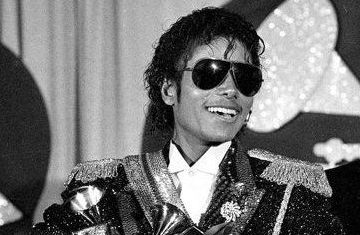 Above: American pop legend Michael Jackson died Thursday
in Los Angeles after arriving at U.C.L.A. Medical Center in a
coma. He was 50. He is pictured here at the 1984 Grammys.
Jackson won eight awards for Thriller. Click here for Michael
Jackson's Life In Pictures.
Michael Jackson's Video Legacy

The New York Times
Published: June 25, 2009
LOS ANGELES — Michael Jackson, whose quintessentially American tale of celebrity
and excess took him from musical boy wonder to global pop superstar to sad figure
haunted by lawsuits and failed plastic surgery, was pronounced dead Thursday
afternoon at U.C.L.A. Medical Center after arriving in a coma, according to a city
official. He was just 50 years old, 39 of which he spent in the public eye he loved.
Read more.
Michael Jackson: A Tribute

Michael Jackson: A Tribute

CNN Video: 'A star for the ages'