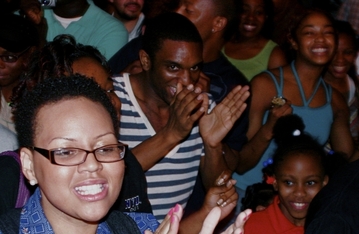 Tadias Magazine
Photos by Jeffrey Phipps
(Tadias contributing photographer)
Updated: Saturday, June 27, 2009
New York (Tadias) – Soon after the news broke that Michael Jackson, the 50-year old "King of Pop" had died, fans gathered near Harlem's Apollo, where he was fondly remembered for his legendary performance at the world famous theater.
"The entire Apollo family is saddened to learn of Michael Jackson's untimely passing," said Jonelle Procope, president and CEO of the Apollo Theater Foundation Inc. "Michael first performed at the Apollo in 1969 with his brothers when he was only 9 years old, winning Amateur Night and catapulting their career as the Jackson 5. We will always remember Michael in our hearts as a true Apollo legend, known for his professionalism and grace. Our sympathy goes out to his entire family. He will be deeply missed."
The crowed celebrated with tears and the moonwalk dance popularized by Michael Jackson. People wore t-shirts depicting the pop icon, which are ubiquitous among Harlem's colorful vendor stands.
Tadias contributing photographer Jeffrey Phipps took the following
photos (SLIDESHOW).
More photos from Harlem courtesy of Kidani Mariam

Watch MSNBC video from Harlem's Apollo