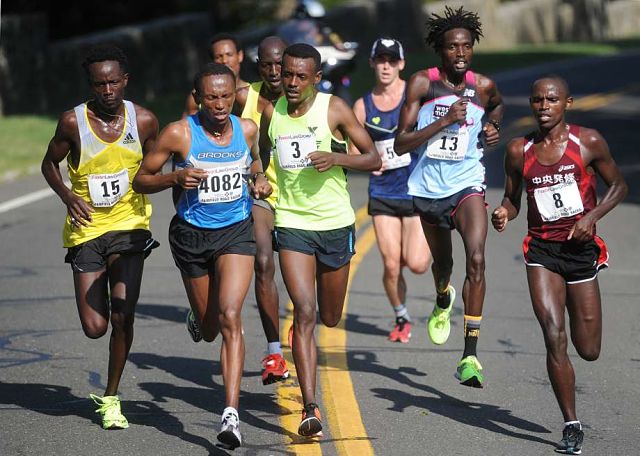 Updated: June 27th, 2016
FAIRFIELD – A good finishing kick was all that Ethiopia's Tsegaye Getachw needed.
Getachw was part of a five-man group that broke away from the rest of the field early in the race and then took turns taking, and retaking the lead as the pack got closer to the finish line. But in the end, it was Getachw that broke away from the group and sprinted to victory in the 36th annual Faxon Law Group Fairfield Half Marathon Sunday morning at Jennings Beach.
Getachw's winning time was 1:05.23 over the 13.1-mile course that winds through the streets of Fairfield, Southport, Greenfield Hills and Westport. Fellow Ethiopians Ayele Megersa Feisa and John Gathaya Muruga finished second and third, respectively, in 1:05.27 and 1:05.56.
"I just wanted to stay close until I was a couple of miles from the finishing line, then I started to push," Getachw said through a translator. "The course wasn't too bad, I felt comfortable on the hills."
A little more than 3,700 runners competed in the half marathon with an additional 1,600 runners taking part in the 5K event, which took place on Saturday.
Getachw won the $2,000 first prize while Feisa took $1,000 for finishing second. Muruga won $500 for third, Julius Koseki of Morristown, N.J., was fourth (1:06.26) and won $300 and Louis Serafini was fifth (1:06.38) and won $200.
–
Related:
Rising Ethiopian Athlete Atsede Baysa Eyes Another Boston Victory
Join the conversation on Twitter and Facebook.