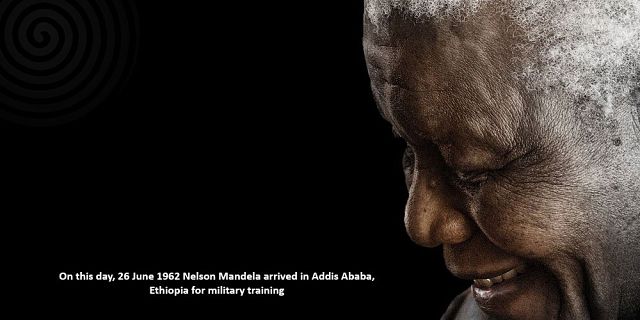 Tadias Magazine
By Tadias Staff
Published: Sunday, June 26th, 2016
New York (TADIAS) — The Nelson Mandela Foundation tweeted today: "On this day, 26 June 1962 Nelson Mandela arrived in Addis Ababa, Ethiopia for military training."
Mandela arrived in Ethiopia under the alias David Motsamayi and disguised as a journalist. In his book, Long Walk to Freedom, he wrote: "I felt myself being moulded into a solider and began to think as a soldier thinks – a far cry from the way a politician thinks."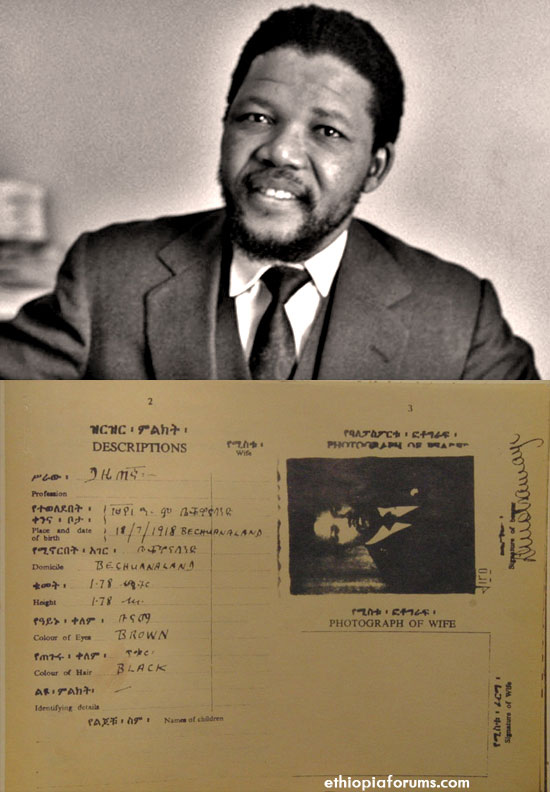 (Image: Ethiopiaforums.com)
In Ethiopia Mandela's instructors were Colonel Tadesse Birru, Colonel G.E. Bekele and Lieutenant Wondomu Befikadu. In an article published by Think Africa Press last year, Joseph Hammond noted: "Wondomu, a former fighter, led the physical training while Tadesse lectured Mandela in the philosophy of guerrilla warfare."
Among the Ethiopians who knew Mandela was Captain Guta Dinka, a young soldier who was assigned to protect him during his stay in Ethiopia. Captain Guta, now 81, lived to tell the dramatic story of how he exposed an attempt to assassinate Mandela by mysterious foreign agents who had approached him to carry out the killing in exchange for cash payment.
On this day, 26 June 1962 #NelsonMandela arrived in Addis Ababa, Ethiopia for military training pic.twitter.com/uXzqxERhhF

— NelsonMandela (@NelsonMandela) June 26, 2016
—
Related:
Photographer Gediyon Kifle's Tribute to Nelson Mandela
Join the conversation on Twitter and Facebook.target="_blank">Facebook.