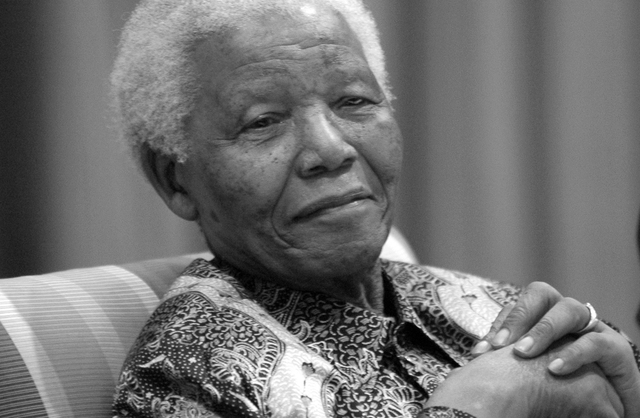 Tadias Magazine
By Tadias Staff
Updated: Tuesday, December 10th, 2013
New York (TADIAS) — The above photo of Nelson Mandela was captured by photographer Gediyon Kifle during the iconic leader's last visit to the United States in 2005 at a meeting hosted by The Congressional Black Caucus in Washington, D.C.
For Gediyon the gathering at a Georgetown hotel eight years ago was a personal and professional opportunity of a lifetime that he can't forget. He said it was a moment that he had been eyeing ever since Mandela was released from prison on February 11th, 1990 — an event etched in his memory as if it was yesterday.
"I vividly remember that it was a Sunday morning because we were headed to the chapel on campus," Gediyon recalled in an interview with Tadias Magazine shortly after news broke on December 5th, 2013 that the iconic anti-apartheid leader had passed away. At the time when Mandela was released from prison Gediyon was a senior attending boarding school in Virginia. Like Mandela, Gediyon's father was also a prisoner during the Derg regime in Ethiopia, but he never made it out alive.
"My teacher knew what Mandela had meant to me, so he allowed me to stay behind and watch the live broadcast of his release," Gediyon said. "It was as if my own father was coming out of prison. Here I was by myself, full of pure excitement and gratification, very emotional and it gave me a sense of closure about my own dad."
Since then in his career as a photojournalist Gediyon has photographed several personalities around the world, including all the living U.S. presidents as well as athletes like Haile Gebrselassie and Muhammad Ali. But, he said, nothing compares to how he felt in the presence of Nelson Mandela. "To just give you an example," he added, "I documented post genocide Rwanda, which was a display of the worst side of human beings. For me Mandela represents the exact opposite. He epitomizes the best of humanity. He is a force for peace, justice, fairness, reconciliation and forgiveness. He embodies what's good about humans. His achievements speak for themselves."
Gediyon was only one of two photographers invited to cover the 2005 meeting at the Four Seasons hotel in Washington, D.C. That was the first and last time that he saw Mandela in person. Prior to that, he said, he had made several arrangements to meet with the legend in private, including traveling to Johannesburg. "It was doable, but our timing never worked out. My only regret is that I did not pose to take a picture with him when I had a chance." Gediyon reflected on this decision noting that at the time he wanted to maintain his "professionalism as a photographer." And yet he admitted "inside me I had this desire to reach-out and touch him."

—
Related:
Capitan Guta Dinka: The man who saved Nelson Mandela's life (Video)
Touching Moments From Mandela's Memorial Service (Video)
The Ethiopian man who taught Mandela to be a soldier (BBC News)
Nelson Mandela In Ethiopia: A Peacemaker's Beginnings As Guerrilla Fighter (IBT)
World Reflects on the Life of Nelson Mandela
Nelson Mandela: 1918 – 2013
Join the conversation on Twitter and Facebook.