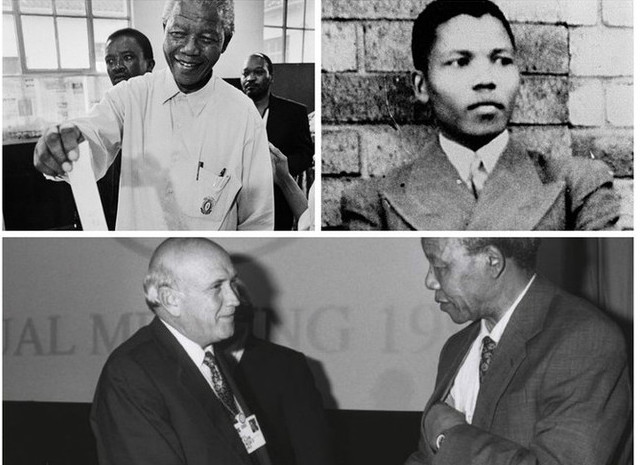 Nelson Mandela, who became an icon of the struggle for racial equality during a decades-long struggle against South Africa's apartheid system, is being remembered across the globe on Thursday following his death at age 95.
Mandela died after a prolonged lung infection, which had been a recurring problem for him since his days as a prisoner of conscience on South Africa's Robben Island. He served 27 years at the notorious jail.
"He is now resting. He is now at peace," South African President Jacob Zuma said in an address to the nation.
Below are a few reactions on Twitter.
#Mandela A true visionary & leader of our time; a man that despite his circumstances showed others how to forgive. pic.twitter.com/1BlR5sTzq2

— Vision Radio Network (@visionradio) December 5, 2013
"Death is something inevitable.When a man has done what he considers to be his duty to his people&his country,he can rest in peace" #Madiba

— NelsonMandela (@NelsonMandela) December 5, 2013
"A real leader uses every issue,no matter how serious & sensitive,to ensure that at the end of the debate we should emerge stronger" #Madiba

— NelsonMandela (@NelsonMandela) December 5, 2013
#UNSG's statement on death of #Mandela: no one did more in our time to advance the values&aspirations of @UN http://t.co/o9Z9n2KiXF #Madiba

— UN Spokesperson (@UN_Spokesperson) December 5, 2013
Let's stay true to the moral compass set by #Mandela. Respect,mutual understanding,reconciliation = strongest foundations for peace&freedom

— UNESCO (@UNESCO) December 6, 2013
.@BarackObama pays tribute to Nelson #Mandela: "He no longer belong to us.. He belongs to the ages" #9News pic.twitter.com/vyv7rj2OYo

— Nine News Australia (@9NewsAUS) December 6, 2013
"As a world leader who refused to accept injustice, Nelson #Mandela's courage helped change our entire world." http://t.co/gmOqKOKt1y

— AmnestyInternational (@amnesty) December 5, 2013
Bono on #Mandela: 'He was born to teach the age a lesson in humility, in humour and above all else in patience' http://t.co/xx6teCn67A

— ONE (@ONECampaign) December 5, 2013
RT @keithboykin: Photo: The Apollo Theater in Harlem remembers Nelson #Mandela. pic.twitter.com/syLyoK8TtQ

— Nadeem Muaddi (@nmuaddi) December 5, 2013
Large crowd gathers outside Nelson #Mandela's home singing liberation songs from apartheid era http://t.co/DnRex9ZFUy pic.twitter.com/k2zMDB1WOR

— BBC Africa (@BBCAfrica) December 6, 2013
"My dearest Winnie…whenever I write you, I become full of love." Read #Mandela's letters to Winnie from prison: http://t.co/6WCc2zMFYU

— FRONTLINE (@frontlinepbs) December 6, 2013
Hamba Kahle #Madiba, you were a friend of the free press. Spirit of Nelson #Mandela lives in journalists like Eskinder Nega & Reeyot Alemu

— africa @pressfreedom (@africamedia_CPJ) December 5, 2013
#Mandela was freed from prison in 1990 and became South Africa's first black president in 1994. #FoxNewsDeck pic.twitter.com/FuRZzvemjp

— ShepNewsTeam (@ShepNewsTeam) December 5, 2013
"He was a unifier from the moment he walked out of prison." – Archbishop Desmond Tutu on #Mandela's passing.

— AJELive (@AJELive) December 6, 2013
Nelson #Mandela has passed on. http://t.co/SpeH8v9KNK

— John Campbell (@JohnCampbellcfr) December 5, 2013
RT @AJELive: Nelson #Mandela's struggle and sacrifices made him one of the world's most revered statesmen. http://t.co/aYzp64xAAC

— Azad Essa (@azadessa) December 5, 2013

—
Join the conversation on Twitter and Facebook.