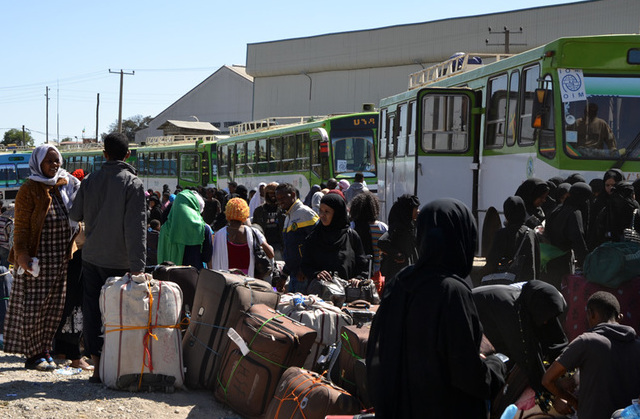 Tadias Magazine
News Update
Published: Friday, December 06, 2013
New York (TADIAS) — A candlelight vigil is being organized in New York to keep the spotlight on Ethiopian migrants who remain stranded in Saudi Arabia, and to remember those who died last month following the country's violent immigration crackdown. The Ethiopian Foreign Ministry announced Thursday that the arrivals from Saudi reached 100,620 this week, while acknowledging that the final number of returnees could surpass 150,000. "All citizens that were detained in Riyadh deportation camps are back," Foreign Minister Tedros Adhanom stated in a press release. According to the International Organization for Migration (IOM) "51,000 migrants are still expected to arrive in Addis Ababa in an exercise that the government estimates will be completed by 15 December."
"The struggle for many Ethiopians is still not over, some are waiting to get transportation back to Ethiopia and are begging for help," noted a statement from the Ethiopian Social Assistance Committee, one of the groups coordinating the New York gathering.
Meanwhile, New Business Ethiopia reports that IOM has also launched a fundraising campaign for USD 13.1 million to support those arriving from Saudi Arabia, noting that "The appeal was made on December 4th, 2013 to different UN organizations, Ambassadors and diplomats in Ethiopia. The projected number of 80,000 returnees indicated by the Government of Ethiopia last week has been surpassed and 96,003 migrants have arrived in Addis Ababa as of 4 December 2013."
—-
Related:
Candlelight Vigil in New York for Ethiopian Victims in Saudi Arabia (ESAC)
Ethiopia: Red Cross Supports Returnees From Saudi Arabia (IFRC)
IOM assists Ethiopia to manage influx of vulnerable migrants returning from Saudi (IOM)
Human Rights Watch on Saudi Arabia Migrant Crackdown (HRW)
Beyond Outrage: How the Diaspora Can Support Migrant Worker Rights (Huffington Post)
NYC Ethiopians Make Presence Felt at the Saudi Mission to the United Nations (TADIAS)

Sioux Falls, South Dakota: Ethiopians Protest Killings In Saudi Arabia (KDLT News)
Ethiopians demonstrate outside Saudi embassy in London (BBC News)
Canada: Ethiopian community protests working conditions in Saudi Arabia (CTV News)
The Ethiopian Migrant Crisis in Saudi Arabia: Taking Accountability (TADIAS)
Tadias Interview With Rima Kalush: Migrant-Rights Org Seeks Long Term Solutions
Ethiopians Continue Peaceful Protests Against Migrant Abuse in Saudi Arabia (TADIAS)
Photos: Ethiopians Hold Protest Outside Saudi Embassy in Washington, D.C. (TADIAS)
Ethiopians: #SomeoneTellSaudiArabia to Stop Crackdown (Global Voices)
First group of Ethiopians from Saudi arrive in Addis (ERTA)
23,000 Ethiopians 'Surrender' in Saudi After Clamp Down (BBC)
Three Ethiopians Killed in Saudi Arabia Visa Crackdown (AFP)
Ethiopian Domestic Help Abuse Headlines From the Middle East (TADIAS)
Changing Ethiopia's Media Image: The Case of People-Trafficking (TADIAS)
Video: Ethiopian migrants tell of torture and rape in Yemen (BBC)
Video: Inside Yemen's 'torture camps' (BBC News)
BBC Uncovers Untold People-Trafficking, Torture of Ethiopians in Yemen (TADIAS)
Meskerem Assefa Advocates for Ethiopian Women in the Middle East (TADIAS)
In Memory of Alem Dechassa: Reporting & Mapping Domestic Migrant Worker Abuse
Photos: Vigil for Alem Dechassa Outside Lebanon Embassy in D.C.
The Plight of Ethiopian Women in the Middle East: Q & A With Rahel Zegeye
Ethiopians Returning From Saudi Arabia Describe Horrible Attacks http://t.co/EFWepkLsct

— Tadias Magazine (@TadiasNews) November 17, 2013
Join the conversation on Twitter and Facebook.