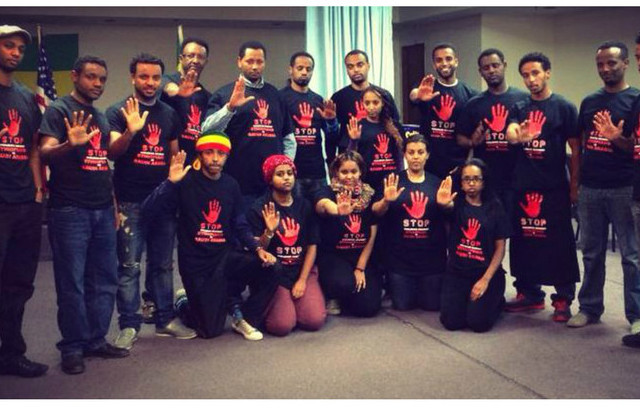 Tadias Magazine
News Update
Tuesday, November 19th, 2013
New York (TADIAS) — Ethiopians in Los Angeles plan to hold a peaceful protest on Wednesday, November 20th in front of the Saudi Consulate against the recent violence targeting Ethiopian migrants in Saudi Arabia.
If You Go:
Wednesday, November 20th at Noon
Royal Embassy of Saudi Arabia
2045 Sawtelle Blvd, Los Angeles, CA 90025
Wear Black
—
Ethiopians Continue Peaceful Protests Against Migrant Abuse in Saudi Arabia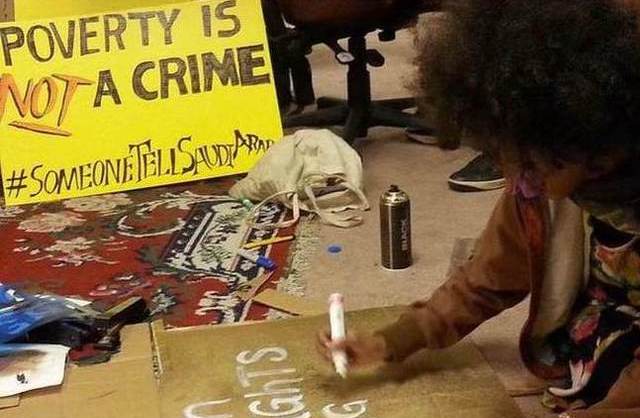 Making posters at Oakland Ethiopian Community & Cultural Center. (Photo credit: Ashe Abebe/Facebook)
Tadias Magazine
News Update
Saturday, November 16th, 2013
New York (TADIAS) – The aftermath of last week's deadly immigration crackdown in Saudi Arabia that claimed the lives of three Ethiopian citizens and the images of targeted mob-violence continue to elicit strong reaction from Ethiopians worldwide.
More protests are scheduled next week in front of Saudi embassies and missions including in Washington, D.C. and New York.
The Ethiopian Community in NYC is scheduled to hold a rally at the Permanent Mission of Saudi Arabia to United Nations on Monday, November 18th. Organizers say the upcoming event has no affiliation with any political or religious entity. They urge attendees to wear black.
"The sole purpose of this protest is to standby with our fellow Ethiopians, Africans and other immigrant workers in Saudi Arabia who are suffering from horrific acts of abuse and human rights violations," the announcement said. "We urge the government of Saudi Arabia to live up to its international obligations and responsibilities to protect migrant workers who are under the country's jurisdiction from abuse, torture, rape, killings and unlawful deportation."
The statement added: "This demonstration is intended to condemn gross violations of basic human rights by Saudi Arabia as stated in the UN Universal Declaration of Human Rights, and to bring awareness to the international community about the immigrants whose only crime is a desire to work and provide for their needy families back home. The Ethiopian Community demands the launch of thorough and independent investigation into the killings, beatings, torturing and raping of migrant workers in Saudi Arabia and to bring those responsible to justice."
—
If You Go:
Permanent Mission of Saudi Arabia to UN
Monday November 18, 2013
Time: 3 pm. – 5:30 pm.
Between 1st. & 2nd. Avenue on East 46 st.
(Close to 1st ave & 46 st.)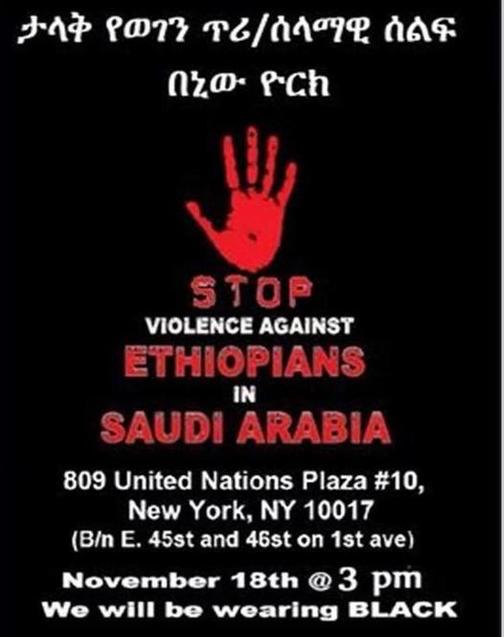 #SomeoneTellSaudiArabia NYC Peaceful Protest Mon Nov 18th 3pm 809 UN Plaza b/n 45th & 46th on 1st Ave.

— Tez (@Tezutopia) November 15, 2013
Protest at the Saudi embassy Washington, D.C. November 18th 11am. Me #SomeoneTellSaudiArabia pic.twitter.com/6dFg4UCMrf

— Ethiopia (@Haddisu) November 12, 2013

—
Related:
Photos: Ethiopians Hold Protest Outside Saudi Embassy in Washington, D.C. (TADIAS)
Ethiopians: #SomeoneTellSaudiArabia to Stop Crackdown (Global Voices)
First group of Ethiopians from Saudi arrive in Addis (ERTA)
23,000 Ethiopians 'Surrender' in Saudi After Clamp Down (BBC)
Three Ethiopians Killed in Saudi Arabia Visa Crackdown (AFP)
Ethiopians Shame Saudi Arabia On Twitter For Inhumane Treatment Of Migrant Workers – See more at: http://t.co/JXarZ38k12

— Tadias Magazine (@TadiasNews) November 13, 2013
The Ethiopian Migrant Crisis in Saudi Arabia: Taking Accountability http://t.co/7t09Yg3jhf

— Tadias Magazine (@TadiasNews) November 18, 2013
Join the conversation on Twitter and Facebook.