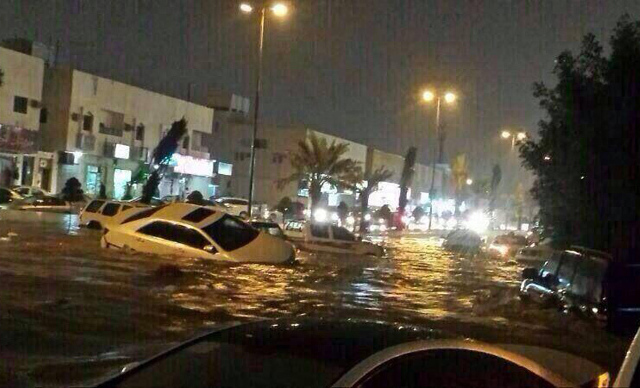 By Habib Toumi, Bureau Chief
The heavy rains that have been lashing the Saudi capital have claimed at least three lives, according to civil defence officials in Riyadh on Sunday.
Two men and one woman died in the floods caused by the rains on Saturday, a civil defence official was quoted as saying in Saudi news site Sabq, adding that the search was ongoing for those reported missing.
"There were 5,015 reports of incidents out of which 4,968 were in Riyadh, and 47 in the provinces," said the spokesperson for the civil defence, Captain Mohammad Al Hammadi.
"98 trapped people were rescued," he said, adding that three people were reported missing in Riyadh.
Civil defence teams had recovered 148 waters that had been submerged in water, out of which 101 were in Riyadh.
The rain reportedly caused damage to public and private property. The damage became apparent on Saturday as the bad weather eased.
Schools in Riyadh and some of its suburbs were closed on Sunday as the authorities worked on reopening roads shut down due to heavy rains.
The education ministry said that it decided to shut down the schools "due to the weather conditions and to the expected rains," the official news agency (SPA) reported.
Read more at Gulf News.
—
Video: Saudi Capital Riyadh Hit With Rare Floods, Residents Urged to Stay Indoors
Heavy rainfall flooded Saudi Arabia's capital Riyadh late Saturday, disrupting road traffic and prompting authorities to close schools.
Saudi Arabia's Civil Defense urged people in Riyadh to remain indoors until the floodwater subsides.
Pictures and videos circulated on social media showed the streets of Riyadh, a city of about 5 million people, flooded.
Road traffic and normal life was brought to a near halt in the usually bustling capital, Al Arabiya television reported.
The correspondent said security and civil defense forces were heavily mobilized in the capital to deal with any emergencies that may arise.
Read more at Al-Arabiya.
—
Related:
Saudi capital hit with rare floods, residents urged to stay indoors (RT)
Crazy photos are coming out of Saudi Arabia After rain leaves capital flooded (Business Insider)
Heavy rains lash Riyadh (Arab News)
Join the conversation on Twitter and Facebook.
Few days ago #Ethiopians' face was flooded in tears and blood, today Saudis streets are flooded in excessive rain #SomeoneTellSaudiArabia .

— Konjit Berhanu (@koniberhanu) November 17, 2013
Protest against violence on Ethiopians in SA Mon Nov18-9AM Saudi Embassy DC.Black Dress #SomeoneTellSaudiArabia #SomeonetellEthiopia

— Ethiopia (@Haddisu) November 17, 2013
#SomeoneTellSaudiArabia 'God works in mysterious ways' – Video clip of Saudi flood http://t.co/Xd7Y0pHCiq

— TS∑DAY ፀደይ (@Tseday) November 17, 2013
Could someone confirm if the flooding in Saudi Arabia is true. Could this be the work of YeEthiopiaAmlak? #SomeoneTellSaudiArabia #Ethiopia

— Ethio Forward (@EthioForward) November 17, 2013
#SomeOneTellSaudiArabia First warning: let my people go!

— Liyou ልዩ (@liyounique) November 17, 2013
"#Saudi capital hit with rare floods, residents urged to stay indoors" – http://t.co/tA3tjpCliC #Ethiopia #SomeoneTellSaudiArabia

— Kweschn Media ➤ መቻቻል (@KweschnMedia) November 16, 2013