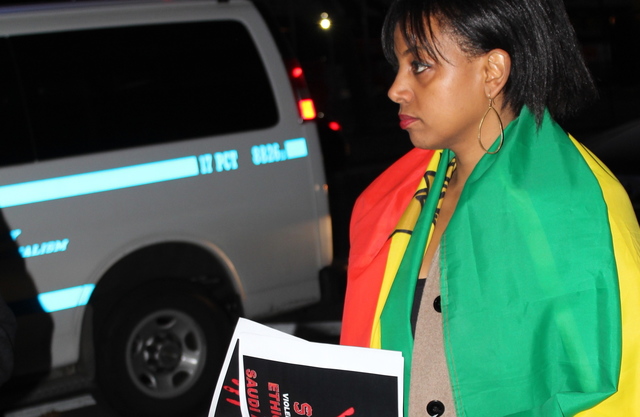 Tadias Magazine
By Tadias Staff
Updated: Wednesday, November 20th, 2013
New York (TADIAS) — Ethiopians in New York made their presence felt outside the Permanent Mission of Saudi Arabia to the United Nations on Monday, November 18th.
The demonstration followed last week's deadly immigration crackdown in Saudi Arabia that claimed the lives of several Ethiopian citizens.
The diverse crowd included members of the Caribbean and other African communities joining fellow Ethiopians around the world who are holding similar events this month to raise global awareness and to protest the recent killings and continuing mistreatment of migrant workers in Saudi Arabia. There are still tens of thousands of undocumented Ethiopians in limbo facing danger without adequate legal protection in the region.
More protests are scheduled this week in front of Saudi embassies and missions including in Los Angeles. Stay tuned for updates.
Below are photos from New York:

—
Related:
Sioux Falls, South Dakota: Ethiopians Protest Killings In Saudi Arabia (KDLT News)
Ethiopians demonstrate outside Saudi embassy in London (BBC News)
Canada: Ethiopian community protests working conditions in Saudi Arabia (CTV News)
The Ethiopian Migrant Crisis in Saudi Arabia: Taking Accountability (TADIAS)
Tadias Interview With Rima Kalush: Migrant-Rights Org Seeks Long Term Solutions
Ethiopians Continue Peaceful Protests Against Migrant Abuse in Saudi Arabia (TADIAS)
Photos: Ethiopians Hold Protest Outside Saudi Embassy in Washington, D.C. (TADIAS)
Ethiopians: #SomeoneTellSaudiArabia to Stop Crackdown (Global Voices)
First group of Ethiopians from Saudi arrive in Addis (ERTA)
23,000 Ethiopians 'Surrender' in Saudi After Clamp Down (BBC)
Three Ethiopians Killed in Saudi Arabia Visa Crackdown (AFP)
Ethiopian Domestic Help Abuse Headlines From the Middle East (TADIAS)
Changing Ethiopia's Media Image: The Case of People-Trafficking (TADIAS)
Video: Ethiopian migrants tell of torture and rape in Yemen (BBC)
Video: Inside Yemen's 'torture camps' (BBC News)
BBC Uncovers Untold People-Trafficking, Torture of Ethiopians in Yemen (TADIAS)
Meskerem Assefa Advocates for Ethiopian Women in the Middle East (TADIAS)
In Memory of Alem Dechassa: Reporting & Mapping Domestic Migrant Worker Abuse
Photos: Vigil for Alem Dechassa Outside Lebanon Embassy in D.C.
The Plight of Ethiopian Women in the Middle East: Q & A With Rahel Zegeye
Ethiopians Returning From Saudi Arabia Describe Horrible Attacks http://t.co/EFWepkLsct

— Tadias Magazine (@TadiasNews) November 17, 2013
Join the conversation on Twitter and Facebook.