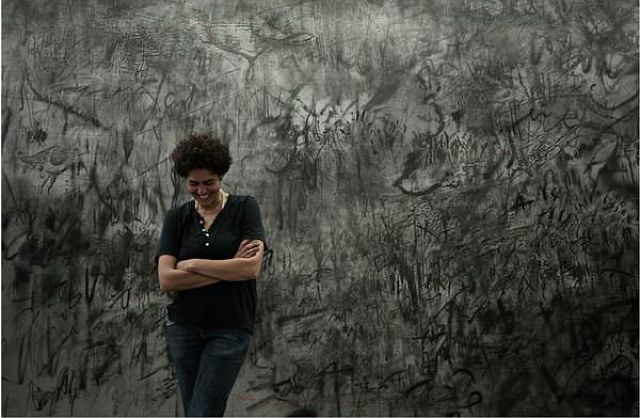 Tadias Magazine
By Tadias Staff
Published: Friday, June 24th, 2016
New York (TADIAS) — Renowned Ethiopian American artist Julie Mehretu returns to Ethiopia this Summer for her inaugural show at The Modern Art Museum Gebre Kristos Desta Center in Addis Ababa. The exhibition entitled Julie Mehretu: The Addis Show — which is jointly presented by the Gebre Kristos Desta Center and the United States Embassy in Addis Ababa — is scheduled to open on July 8, 2016 and will remain on display through August 6, 2016.
"The show will feature 17 of Mehretu's paintings, ranging from her earliest paintings to her most recent works," the announcement said. "The Museum is especially pleased to host this show as it will mark the first time that Mehretu will exhibit her work in Ethiopia, where she was born and raised until she was 7."
Mehretu, who lives and works in New York, was born in Addis Ababa in 1970 and immigrated to the United States with her family in 1977. She has received numerous international awards for her work including the American Art Award from the Whitney Museum of American Art and the prestigious MacArthur Fellowship. She had residencies at the Museum of Fine Arts in Houston (1998–99), the Studio Museum in Harlem, New York (2001), the Walker Art Center, Minneapolis, Minnesota (2003), and the American Academy in Berlin (2007).
"Julie Mehretu is widely considered one of the finest painters of her generation," the Gebre Kristos Desta Center added in a press release. "She is known for her densely layered and mesmerizing abstract paintings, which often gesture to the language of architecture and geography as inspiration for abstract compositions, as well as commentary on the complex social worlds we inhabit. Mehretu's work offers not only a new form of visual abstraction, but also a new perspective of the social and geographic networks that underpin the modern world."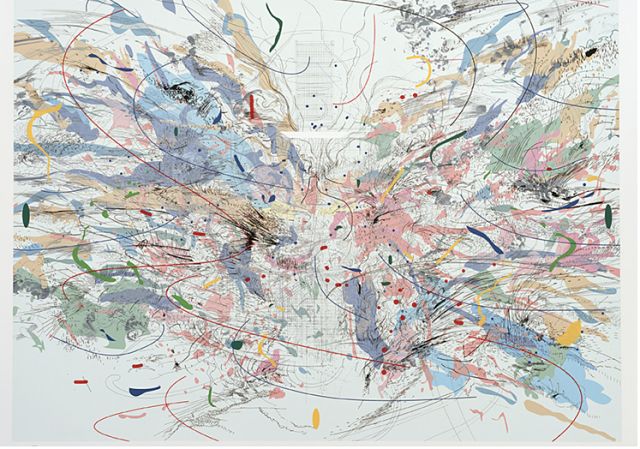 (Artwork by Julie Mehretu, Entropia (review) 2004 32-color Lithograph and screenprint 33 1/2 x 44 inches.)
In addition, this Spring Julie Mehretu was honored by the prestigious U.S. arts institution, The Skowhegan School of Painting, receiving the medal for painting at the 70th anniversary celebration and 2016 Awards Dinner that was held in New York City on April 26th. Last Fall, Julie was the only living female artist whose work was featured at Christie's postwar and contemporary sale, according to a New York Times article highlighting "The Resurgence of Women-Only Art Shows" in the United States. The Times notes that "The Ethiopian-born painter was offered at Christie's postwar and contemporary sale, alongside 18 living male artists."
A series of events is planned in conjunction with the Addis Show exhibition in Ethiopia next month "including a day-long symposium featuring artists, architects, curators, art historians, and workshops and lectures at Addis Ababa and Bahir Dar Universities."
—
Related:
Julie Mehretu: A Trailblazing Artist Honored with Skowhegan Medal of Painting
Julie Mehretu: An Abstract Artist Absorbing Multiple Identities (NBC News)
Julie Mehretu Awarded 2015 Medal of Arts by U.S. State Department
American Artist Lecture: Julie Mehretu at Tate Modern in London
Julie Mehretu on Africa's Emerging Presence in Contemporary Art
Join the conversation on Twitter and Facebook.