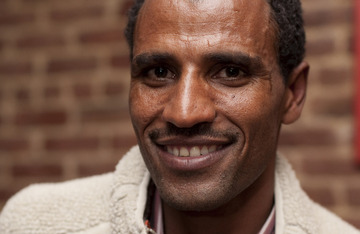 Above: Ethiopia's Gebre Gebremariam finished runner-up at
inaugural B.A.A. 10K race held in Boston on Sunday, June 26.
Tadias Magazine
Sports News
Updated: Sunday, June 26, 2011
New York (Tadias) – Defending Boston Marathon champion Geoffrey Mutai of Kenya won the inaugural B.A.A. 10K on Sunday morning in Boston, finishing the race in 27 minutes, 19 seconds.
The 29-year-old Kenyan bolted to the front after half-way, leaving Ethiopian Gebre Gebremariam and the rest of the pack behind.
Gebre Gebremariam, the reigning New York City marathon men's champion, came in second.
Boston Marathon runner-up Moses Mosop of Kenya finished third.
In April, Mutai won the Boston Marathon in 2:03.02, the fastest marathon ever recorded.
Gebre Gebremariam, who is also scheduled to represent Ethiopia at the IAAF World Championships in Daegu, South Korea, in late August, finished the B.A.A. 10K race in 28:11.
On the women's category, Caroline Kilel of Kenya finished first, while Kim Smith of New Zealand came in second. Misiker Demissie of Ethiopia was third.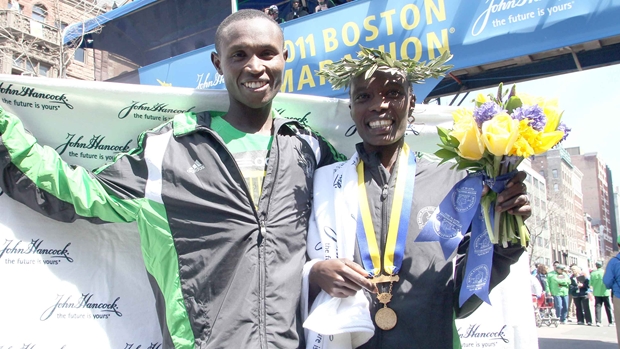 2011 Boston inaugural B.A.A. 10K winners Geoffrey Mutai and Carolyn Kilel. (The Runners Vibe.com)
Below are the results from Sunday's inaugural B.A.A. 10K competition held in Boston.
Men:
1. Geoffrey Mutai (KEN) – 27:19
2. Gebre Gebremariam (ETH) – 28:11
3. Moses Mosop (KEN) – 28:29
4. Samuel Chelanga (KEN) – 28:31
5. Samuel Ndereba (KEN) – 29:01
6. Shawn Forrest (AUS) – 29:10
7. Simon Ndirangu (KEN) – 29:30
8. Joseph Chirlee (KEN) – 29:37
9. Elkanah Kibet (KEN) – 30:13
10. Timothy Ritchie (USA) – 30:26
Women:
1. Caroline Kilel (KEN) – 31:58
2. Kim Smith (NZL) – 32:06
3. Misiker Demissie (ETH) – 33:08
4. Heather Cappello (USA) – 33:32
5. Benita Willis (USA) – 34:11
6. Katie Dicamillo (USA) – 34:26
7. Jennifer Campbell (USA) – 35:42
8. Caroline Bjune (USA) – 36:08
9. Trina Painter (USA) – 36:13
10. Mary Kate Champagne (USA) – 36:38
—-
Cover Image: Gebre Gebremariam at a victory dinner on Monday, November 8, 2010 at Queen of Sheba Restaurant in Manhattan following his surprise win at the New York City Marathon on Sunday, November 07, 2010. (Photo by Marie Claire Andrea for Tadias Magazine)
Related from Tadias archives:
Gebre Gebremariam wins first ING New York City Marathon
Victory Dinner for New York City Marathon Winner Gebre Gebremariam – Photos