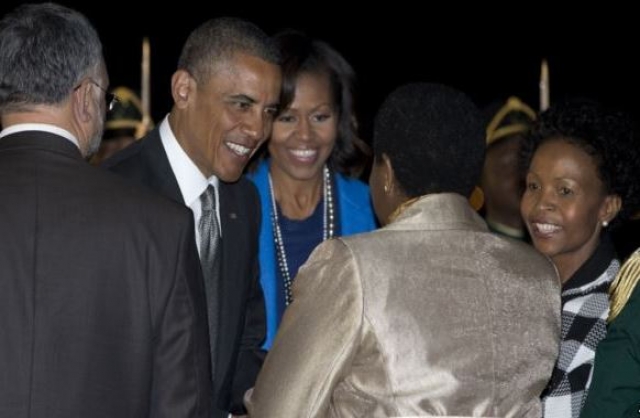 Tadias Magazine
By Tadias Staff
Updated: Friday, June 28th, 2013
New York (TADIAS) – President Barack Obama and his family are in Africa this week, on his first major foray to the continent as President since he made brief stops in Ghana and Egypt during his first term in office. Obama's current tour highlights Senegal, South Africa and Tanzania.
Administration officials say the President's itinerary was carefully planned to bring international attention to the three "promising and robust African democracies" that stand out as examples in the region for their commitment to sustainable economic progress in conjunction with good governance, respect for human rights, and independent press.
President Obama is traveling with an American contingent of business leaders and entrepreneurs to encourage investment in Africa and to strengthen public-private partnerships, which is high on his agenda.
"I would like to see President Obama address poverty, regional stability, disease and corruption," said Ezekiel M. Luhigo, a Boston-based Tanzanian community organizer involved in the larger African diaspora in the U.S. "As a strong supporter of President Obama's administration and policies, I believe this trip is very necessary as America cannot afford isolationism and must court all corners of the world to remain influential in world affairs." He added: "The visit will plant an American inspired seed of hope, change and respect for the rule of law especially to young people in Tanzania."
In the Ethiopian American community, a quick scan on social media reveals one is hard-pressed to find loyal supporters of the President who have not given up waiting for the White House to hold straight-talk discussions with its friends in the continent regarding corruption, illegal capital flight, crackdown on media professionals, and the continuing trafficking of young, poor and uneducated women for servitude in the Middle East.
Still, others had hoped that Obama would become the first sitting American President to address African leaders from the AU headquarters in Addis Ababa during his current tour of the continent, and even weigh in on the Nile controversy between Egypt and Ethiopia – two of the biggest recipients of U.S. aid in Africa.
"Tanzanian leaders are poised to learn a great deal from President Obama's leadership style, which is rooted in the politics of conviction and not politics of convenience," Ezekiel told Tadias. "Moreover, I look forward to the visit, especially the hundreds of business people and investors, injecting a real vigor in the existing legislation aimed at promoting trade."
For Benedict Kazora, President of Eastern Africa Diaspora Business Council, Obama's trip is a diplomatic and economic preemptive strike against the growing Chinese influence in the region. "Congressman Ed Royce [a Republican from California's 39th congressional district], Chairman of the House Foreign Affairs Committee, recently noted that the East African Community, EAC, is the next BRIC countries given it's growth rate," Benedict said in an interview with Tadias.
Benedict was comparing the East African intergovernmental organisation comprising five countries: Burundi, Kenya, Rwanda, Tanzania and Uganda, with the BRIC economies: Brazil, Russia, India and China. "Therefore this was the most opportune time for the president to visit and establish a firm footing in the region politically, socially and economically," he said.
Nevertheless, Benedict added, President Obama needed to engage more with the Diaspora for a "multitude" of reasons. "I will speak for Tanzania which has a Diaspora organization (DICOTA) which is lead by the very able Dr. Ndaga Mwakabuta," Benedict said. "Many people have not realized or learned to leverage the Diaspora. Research has shown that the per capita income of East Africans in the region is less than $2,000 while that of the East Africans in the Diaspora is over $40,000." He added: "Remember the East Africa Diaspora are almost two million to date spread out in all developmental sectors such as ICT, agriculture, trade and investment, infrastructure development and so on."
Ezekiel pointed out that without the contacts that a high profile visit like this could bring, "legislation such as AGOA will remain elegant boilerplate but empty pursuits."
"I would like to see trade agreements and investment treaties that will help to lift up local entrepreneurs as well as open opportunities to the American business community," he said.
—
Related:
Obama Receives Huge Welcome in Tanzania (Video)
Tadias Interview: Ambassador David Shinn on Obama's Africa Trip
UPDATE: President Obama Outlines Partnership Model with Africa (Video)
Ethiopia: Children TV Host Speaks at African First Ladies Summit in Tanzania (TADIAS)
Obama to Discuss Trade, Investment in Africa (VOA)
Obama in Africa: Too little too late? (BBC News)
Obama's Africa Trip to Focus on Democracy, Development (VOA News)
Join the conversation on Twitter and Facebook