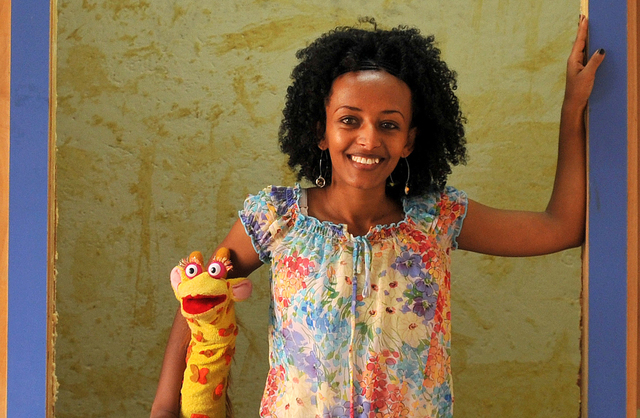 Tadias Magazine
By Tadias Staff
Updated: Monday, July 1st, 2013
New York (TADIAS) – As President Barack Obama and his family wind down a three-country Africa tour this week in Tanzania, their stay in Dar es Salaam will coincide with the African First Ladies Summit. Hosted by the George W. Bush Institute the summit features keynote addresses by President and Mrs. Bush as well as expected appearances by First Lady Michelle Obama, Ethiopia's First Lady Roman Tesfaye, Tanzania's First Lady Salma Kikwete and other African first ladies.
In addition, Bruktawit Tigabu, the co-founder of Whiz Kids Workshop PLC and co-creator of the Ethiopian educational children's TV program 'Tsehai Loves Learning,' has been invited to participate as a panelist to discuss interventions that utilize public-private partnership models, cross-sector collaborations and technology to improve access to literacy and teacher training.
"The summit will bring together African First Ladies, government officials, private organizations, NGOs and academics to discuss best practices that can reap sustainable, replicable results, benefit women and strengthen society," the Bush Institute said in a statement. "Many African countries are committed to introducing critical interventions in education, health and economic opportunity led by First Ladies that will benefit women and strengthen society. Investing in women results in better outcomes for entire families, communities and nations."
"'Tsehai Loves Learning' is an educational preschool program, broadcast nationally on Saturday mornings by the Ethiopian Radio and Television Agency," Whiz Kids Workshop PLC said in a press release. "New episodes of 'Tsehai Loves Learning' are currently in production, which aim to make reading simpler, more engaging, rewarding and fun."
—
Watch webcast of the African First Ladies Summit at bushcenter.org.
Visit NBCNews.com for breaking news, world news, and news about the economy
Video: President Obama Holds Town Hall with Young People in South Africa (VOA News)


—
Related:
Moving Beyond Obama: Empowering Ethiopians to Influence US Foreign Policy (TADIAS)
Obama Receives Huge Welcome in Tanzania (Video)
Tadias Interview: Ambassador David Shinn on Obama's Africa Trip
UPDATE: Obama Africa Trip Highlights Senegal, South Africa and Tanzania (TADIAS)
Join the conversation on Twitter and Facebook