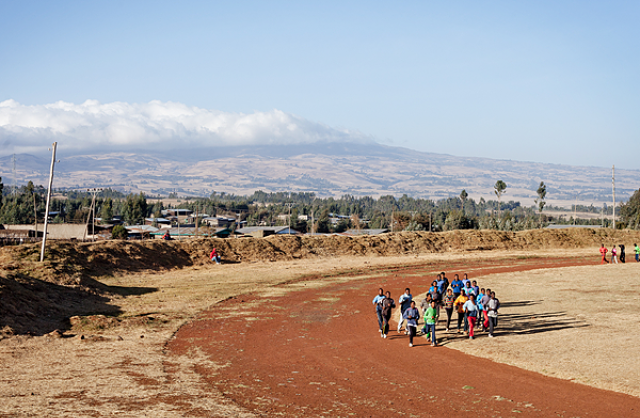 01 JUL 2015
The Ethiopian town of Bekoji has produced countless champions but grassroots athletics has been sorely underdeveloped until Running Across Borders initiated a project in 2008 to support local coaches and runners.
In association with the IAAF's social development programme Athletics for a Better World, Running Across Borders and Edinburgh University's Global Development Academy welcomed nearly 100 people to a screening of the documentary Town of Runners last month.
The main protagonist of the documentary was Ethiopian coach Sentayehu Eshetu, who was present at the screening as part of his week-long trip to the UK to raise awareness for grassroots athletics in his training base of Bekoji, a provincial town situated about 300km to the south of Addis Ababa.
In a country long associated with poverty, famine and war, long-distance runners such as Kenenisa Bekele, Tirunesh Dibaba and Derartu Tulu have been a perpetual source of national pride. All three were born and raised in Bekoji and started to run under the guidance of Eshetu. Some 16 Olympic medals over two decades have been accumulated from athletes originating from this town, but support for grassroots athletics is limited.
"In terms of natural running terrain, Bekoji has it all: hills, forests, trails, altitude," said project founder Malcolm Anderson. "But the facilities and interest in the support of athletics was non-existent apart from the figurehead of the town, Sentayehu Eshetu, who has been based there for the past 39 years initially as a PE teacher in the local schools."
Since 2008, UK-based organisation Running Across Borders has been supporting grassroots athletics in Bekoji. This support has increased as a legacy of the award-winning documentary Town of Runners and since the start of the year, Athletics for a Better World has provided additional assistance to local coaches and up-and-coming runners who dream of becoming the next Bekele or Dibaba.
Watch: Town of Runners Extended Trailer

—
Related:
Conversations With Filmmakers of 'Town of Runners' (TADIAS)
Town of Runners – review (Guardian)
The Ethiopian town that's home to the world's greatest runners (Guardian)
Join the conversation on Twitter and Facebook.