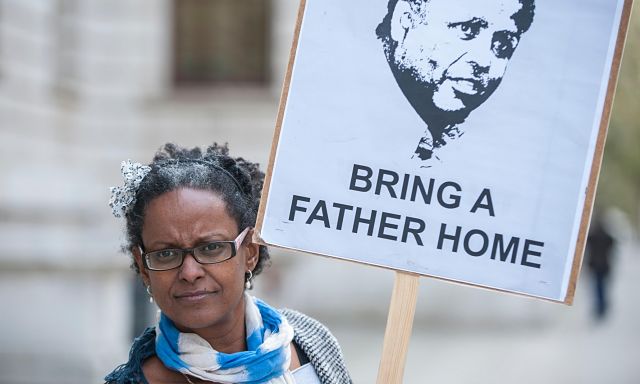 By Mark Townsend
The UN has demanded the immediate release of a Briton held on death row in Ethiopia for more than a year, an intervention that campaigners say exposes Britain's poor diplomacy towards the case.
Experts from the UN Human Rights Council have advised Ethiopia to pay Andargachew Tsige "adequate compensation" before sending him home to London, an abrupt hardening of its position on the case at a time when Britain pursues a softly, softly approach with no tangible reward.
Internal Foreign Office emails, disclosed for the first time, reveal that even before Tsige was kidnapped and jailed in an unknown location in June 2014, British officials had voiced fears at "the real risk of torture if [Tsige is] returned to Ethiopia", along with "fair trial concerns".
An eight-page judgment from the UNHRC's working group on arbitrary detention handed to Ethiopia suggests such fears have been realised, saying that there is "reliable evidence on a possible situation of physical abuse and mistreatment which could amount to cruel, inhuman and degrading treatment."
Tsige, 60, a father of three from London, and known to friends as Andy, was arrested in Yemen's main airport while in transit and forcibly removed to the Ethiopian capital, Addis Ababa.
He is prominent in Ethiopian politics, having been leader of opposition party Ginbot 7, which has called for democracy, free elections and civil rights. The government has accused him of being a terrorist and in 2009 he was tried in his absence and sentenced to death.
Foreign secretary Philip Hammond has refused to demand his urgent release, preferring to push for consular access, a request rejected by Ethiopia. Tsige's partner, Yemi Hailemariam, also a British national, who lives in London with their children, has spoken to him just once by telephone since his abduction.
Join the conversation on Twitter and Facebook.