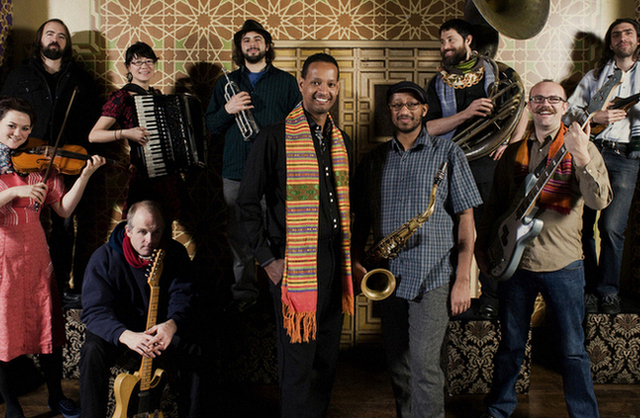 This might not seem like the perfect recipe for a great party band, but hear Debo Band out. Take nine disparate musicians who play everything from electric guitar to sousaphone. Add a lead singer who usually sings in Amharic, which, despite being the main language of Ethiopia, is going to sound deeply obscure to a non-Ethiopian audience. Mix in traditional and modern Ethiopian songs and a handful of originals. Step back and let the groove roll out.
Wait, what?
Despite all apparent barriers, Debo Band — a group from Boston founded by Ethiopian-American saxophonist Danny Mekonnen — is charged up on a beguiling mix of riotous energy and sinuous swing. Its amazing singer is Bruck Tesfaye, whose voice swoops and flutters brilliantly while he stitches hundreds of tiny ornaments into his melodic lines with easy grace. The blend is best imbibed on a sweaty club floor late at night, but plenty of fire still comes through on this self-titled album debut.
Read more and listen to 'Debo Band's new CD in its entirety at NPR.