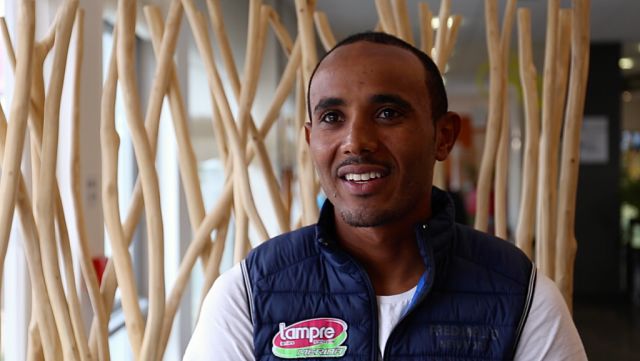 Ethiopia has been sending cyclists to the Olympic Games since the 1950s but has never sent a rider to the Tour de France. Until now. Tsgabu Gebremaryam Grmay is competing this year before racing in the Brazil Olympics next month.
"I'm so excited because I've never done this race," he says with less than 24 hours to the first stage. "For me the Tour de France is not just about finishing 21 stages. It's about doing something special. I'm ready to do something in this tour.
"I'm ready to fight."
He's riding in the Italian team Lampre-Merida that includes the powerful Rui Costa and the young South African Louis Meintjes. The squad will be chasing stage wins and a good showing in the general classification.
Tsgabu Grmay has been spoken about as one of the top cyclists from Africa for some time. Before he turned 20 he took a fifth place at the Tour of Rwanda. In 2013 he was fifth in Gabon's prestigious Tropicale Amissa Bongo and he picked up a stage win and a second place overall in the Tour of Taiwan…
Tsgabu comes from Ethiopia's northern highlands. The air is thin in his hometown of Mekele, which sits at over 2000m. He returns often from the Lampre Merida base in Italy and trains in the roads around Mekele. He only has enough paved road for three hours on the bike. After that he has to ride the same roads again.
There are more good young riders coming up in Ethiopia, he says. "They can see the possibility now."
Although it was not easy to watch European cycling six or seven years ago in Mekele, he says, now there are plenty of free-to-view satellite channels that show the big Tours.
This means Ethiopia will be watching Tsgabu as the Tour rolls round France.
Read the full article at RFI »
—
Join the conversation on Twitter and Facebook.