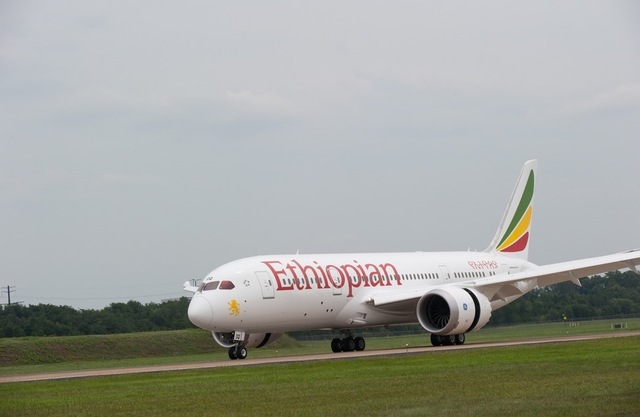 Tadias Magazine
By Tadias Staff
Updated: Monday, July 4th, 2016
New York (TADIAS) — Ethiopian Airlines Sunday re-launched service between Addis Ababa and Newark Liberty International Airport in New Jersey.
The three-times per week Addis Ababa – Lome – Newark flights are to be operated by Boeing 787 Dreamliner, the airline announced. Ethiopian Airlines had previously operated service to Newark, canceling the route in 2004 and using Dulles International Airport in Washington DC.
"This new service enables passengers to connect between New York-Newark and many cities throughout Africa," Ethiopian Airlines said in a press release. "At Lomé, passengers enjoy seamless connections to/from points in West Africa with ASKY, Ethiopian partner airline based in Lomé. Connections are available to/from Abidjan, Bamako, Bissau, Brazzaville, Conakry, Dakar, Douala, Kinshasa, Lagos, Libreville, N'djamena, Niamey, Ouagadougou and Yaoundé." In addition, at Addis Ababa airport travelers will have further options for connections "to/from points in East and Southern Africa, including Nairobi, Dar Es Salaam, Khartoum, Kampala, Kigali, and Johannesburg."

Ethiopian Airlines inaugurates the new flight at Newark Liberty International Airport in New Jersey on Sunday, July 3rd, 2016. (Photos: by Kidane Mariam for Tadias)
The CEO of Ethiopian Airlines, Mr. Tewolde GebreMariam, said in a statement: "We are thrilled to resume our service to New York, our fifth gateway in the Americas. New York is one of the world's most economically powerful cities and including it in our ever expanding network will play a critical role in the expansion of trade, tourism and investment between the fast growing continent of Africa and the United States. I would like to thank all who strived hard to make the route possible."
New York-Newark is Ethiopian's 93rd international gateway and 4th destination in North America. "Ethiopian currently operates daily nonstop flights from Washington DC to Addis Ababa, as well as three weekly nonstop flights from Toronto to Addis Ababa and three weekly flights from Los Angeles to Addis Ababa via Dublin. Ethiopian is expanding its network rapidly, and in the past year has introduced services to Tokyo, Manila, Dublin, Los Angeles, Cape Town, Durban, Gaborone, Yaoundé, and Goma."
—
Related:
Photos: Ethiopian Airlines Inaugurates Flight Connecting Addis, LA, Dublin
Join the conversation on Twitter and Facebook.