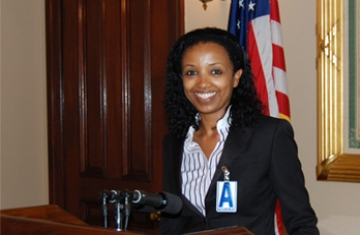 Tadias Magazine
Events News
Published: Thursday, July 8, 2010
New York (Tadias) – The 5th Annual Ethiopian American Business Forum & Exhibition is scheduled to take place in the nation's capital this weekend.
The conference – a joint project between U.S. government agencies and private companies – aims to foster new business relationships between Diaspora investors and entrepreneurs operating in Ethiopia.
The event is organized by The Ethiopian American in association with USAID's "Africa Growth & Opportunities Act+" Program – VEGA AGOA Plus, a U.S. taxpayer-funded project designed to promote trade between the United States and African nations.
According to the organizers, "Mimi Alemayehou, Executive Vice President of Overseas Private Investment Corporation, will give the opening remarks to kick off the Forum, and Adrian Fenty, Mayor of D.C., has been invited to open the exhibition/trade show and give the keynote speech at the Forum's luncheon on July 10th, 2010."
The exhibition and trade show will feature over 20 ventures from the U.S. and Ethiopia.
In case you are debating whether to attend the conference or watch the World Cup finals, organizers note: "We're working on making sure a big screen TV is available for your viewing pleasure in the lobby."
—-
Update from the organizers (Friday, July 9, 2010)
Karl Wycoff, Deputy Assistant Secretary of State for Africa will speak at the 5th Ethiopian Diaspora Business Forum & Exhibition luncheon tomorrow. Other speakers at the luncheon will be: Ms. Rosa Whitaker, CEO of the Whitaker Group, the principal architect of AGOA and Ato Ermias Amelga, CEO of Access Capital and Founder and Board Chairman of Zemen Bank S.C.
If You Go:
5th Ethiopian Diaspora Business Forum and Exhibition
July 10 and 11
Four Points by Sheraton (1201 K Street, NW)
Washington D.C. – (202) 289-7600
Both days the events run from 9AM-6PM
The event is free and open to the public
Related from past events:
Video: Watch Ethiopian Diaspora Business Forum – 2008