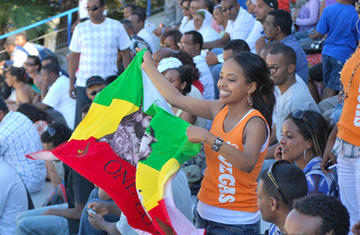 Tadias Magazine
Events News – Photos by Kal Kassa
Published: Wednesday, July 7, 2010
San Jose, CA (Tadias) – The recently concluded Ethiopian Soccer Tournament in San Jose, California was attended by thousands of Ethiopian-Americans and their families.
The annual event, designed to promote goodwill among the various Ethiopian communities in the United States and Canada, is organized by the Ethiopian Sports Federation in North America (ESFNA), a non-profit organization founded in 1984 to help popularize amateur soccer while celebrating commonly shared traditions.
The week-long gathering, which this year celebrated its 27th anniversary, goes far beyond sports entertainment, allowing families and friends to come together in celebration of their cultural heritage. The festival week is a popular time for networking, alumni gatherings, small business catering, music performances, and reunion parties.
The colorful 2010 tournament at Spartan Stadium showcased 27 teams – along with food vendors, artists, artisans and entrepreneurs, offering items ranging from injera to T-shirts and everything in between.
ESFNA has yet to announce the host city for next year's tournament. Meanwhile, here are few photos from San Jose.
Related from Tadias Magazine:
Toronto Says It Has What It Takes to Host the Ethio Soccer Tour