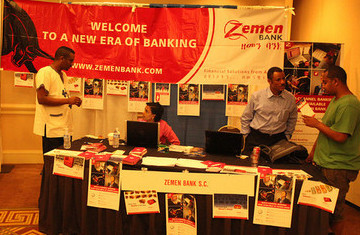 Tadias Magazine
Events News
Photos by Derege Zewdie
Published: Sunday, July 11, 2010
New York (Tadias) – While Spain and the Netherlands battled for the 2010 World Cup final on Sunday afternoon, Tadias caught part of the 5th Annual Ethiopian American Business Forum & Exhibition, which took place in Washington, D.C. this weekend.
We are told a lot more people attended the opening day activities on Saturday where featured speakers included Karl Wycoff, Deputy Assistant Secretary of State for Africa; Mimi Alemayehou, Executive Vice President of Overseas Private Investment Corporation; Ms. Rosa Whitaker, CEO of the Whitaker Group and the principal architect of AGOA; and Ato Ermias Amelga, CEO of Access Capital and Founder and Board Chairman of Zemen Bank S.C.
The conference was a collaborative event between U.S. government agencies and private companies and was developed to promote trade between the United States and Ethiopia by fostering new business relationships between Diaspora investors and entrepreneurs operating in the African nation.
The event was organized by The Ethiopian American in association with USAID's "Africa Growth & Opportunities Act+" Program – VEGA AGOA Plus, a U.S. taxpayer-funded project, which offers tangible incentives for African countries to continue their efforts to open their economies and build free markets.
The exhibition showcased several ventures mostly from Ethiopia. It took place at Four Points by Sheraton in Washington, D.C.
Here are few photos:
-
Click here to view photos from the Saturday event.
Past Video: Watch Ethiopian Diaspora Business Forum – 2008

Related Events New:
Photo Journal: San Jose Ethiopian Soccer Tournament 2010