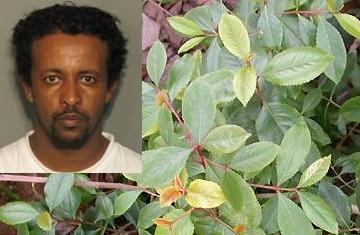 Above: Ethiopian man has been charged with possession and
an intent to sell Khat, a controlled substance in the U.S. The
stimulant is widely used as a recreational drug in East Africa.
My Fox Memphis
by Tealy Devereaux
Updated: Monday, 05 Jul 2010
MEMPHIS, Tenn. – One Mid-South man is behind bars after police caught him with a large amount of Khat at Memphis Smart Mart.
Smart Mart at South Highland and Southern was closed for business around 11 a.m. Monday morning. The store was back open to customers by that afternoon.
Police said the temporary shutdown came after the only employee on duty was arrested for the possession of a unique drug to Memphis called Khat.
"We don't see it a lot. But we understand that people are addicted, are using it. They can chew it, chew the leaves, smoke the leaves, they can also brew it in tea," said Lieutenant, Mike Shearin.
WATCH

Related:
Cab Driver Accused Of Falling Asleep Behind Wheel (Channel 6/ Indiana)
Graff jewel heist: robbers' profiles (Telegraph.co.uk)