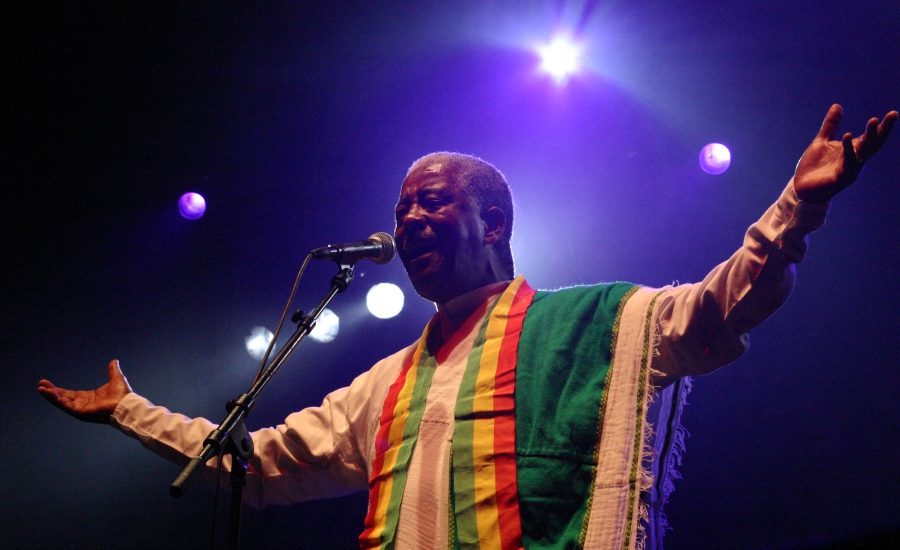 Tadias Magazine
By Tadias Staff
Wednesday, July 9th, 2014
New York (TADIAS) – Ethiopia's music icon Mahmoud Ahmed will perform live in Red Hook, Brooklyn on Saturday, July 26th from 3-8pm. The event begins the summer concert series presented by ISSUE Project Room (who also sponsored the appearance of Ethiopian pianist and composer Girma Yifrashewa in Brooklyn last year) and Pioneer Works Center for Arts and Innovation where the indoor/outdoor concert will take place.
"A verified legend of African pop music, Mahmoud Ahmed led the wave of Ethiopian music's 'golden age' in the 60s-70s with his notoriously energetic combination of traditional Amharic music with soul, jazz & funk," organizers stated in their press release. "His multi-octave voice made him a household name in Ethiopia, and a star since nearly the moment he started recording. The ISSUE Project Room and Pioneer Works Center for Art and Innovation are pleased to present Mahmoud Ahmed live in Red Hook, Brooklyn—his first New York performance since 2011." The organizers note that additional supporting acts will be announced shortly.
"Born in 1941 in Addis Ababa, Mahmoud Ahmed shined shoes before becoming a handyman at the city's Arizona Club, where he first sang professionally with their house band in the early 1960s. He sang for the state-sanctioned Imperial Body Guard Band until 1974′s revolution, after which a 14-year moment of liberated creativity took hold in the country. Leading the Ibex Band, later renamed the Roha Band, Ahmed burst to the forefront of the country's pop scene with a melding of dance beats, prominent brass and sax arrangements, and traditional pentatonic scales and circular rhythms. His classic 1975 record Eré Mèla Mèla, released in Europe in 1986, was for years the only example of modern Ethiopian music known to the West. Since the 90s Ahmed's music has spread across the west through four separate releases devoted to his music in the award-winning Ethiopiques series (Buda Musique). Now in his 70s, Ahmed's music has recently been reappraised with acclaimed, energetic performances internationally."
Video: Mahmoud Ahmed and Gossaye Tesfaye – ADERA (2013)

–
If You Go:
Mahmoud Ahmed in Brooklyn, New York
Saturday, July 26th, 2014 – 3:00 – 8:00pm
At Pioneer Works:
159 Pioneer St., Brooklyn NY 11231
TICKETS: $20 General / $15 Members + Students
http://issueprojectroom.org/event/mahmoud-ahmed
Related:
Photos: Teddy Afro at SummerStage in NYC
Ethiopian Pianist Girma Yifrashewa at Bethesda Blues and Jazz Club
Join the conversation on Twitter and Facebook.