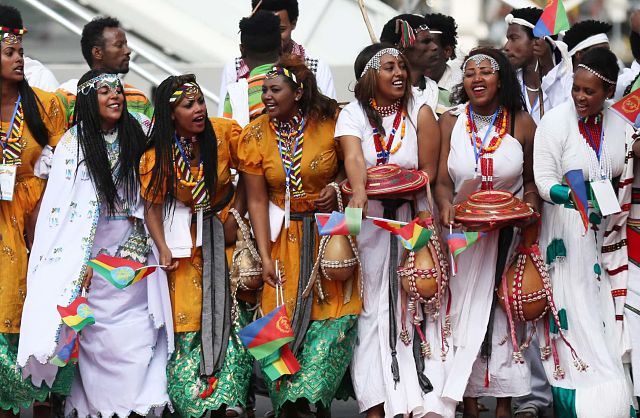 The Guardian
The flags of the two nations flew bright and sharp. The two leaders waved at the happy crowds. The formal meetings overran, amid ostentatious displays of bonhomie. Even the hatchet-faced security officials appeared relaxed.
The meeting of Abiy Ahmed, Ethiopia's 41-year-old prime minister, and Isaias Afwerki, the 71-year-old president of Eritrea, in Addis Ababa on Saturday left seasoned Africa observers gasping for breath.
"The pace of this is simply astounding," said Omar S Mahmood, of the Institute for Peace and Security Studies in Ethiopia's booming capital.
The meeting between Abiy and Isaias concluded an intense bout of diplomacy that appears to have ended one of Africa's longest-running conflicts. "Words cannot express the joy we are feeling now," Isaias said, as he had lunch with Abiy. "We are one people. Whoever forgets that does not understand our situation."
Many Ethiopians expressed their exhilaration on social media. "The events of these past … days between Ethiopia and Eritrea are like the fall of the Berlin Wall. Only amplified 1,000 times," Samson Haileyesus wrote on Facebook. The reaction in Eritrea has been equally ecstatic.
Analysts say such hyperbole may be justified. The bid for peace with Eritrea is just the latest in a series of efforts that may bring revolutionary reform to Africa's second most populous nation, transform a region and send shockwaves from the Mediterranean to the Cape of Good Hope.
Since coming to power in April, Abiy has electrified Ethiopia with his informal style, charisma and energy, earning comparisons with Nelson Mandela, Justin Trudeau, Barack Obama and Mikhail Gorbachev. He has reshuffled his cabinet, fired a series of controversial and hitherto untouchable civil servants, including the head of Ethiopia's prison service, lifted bans on websites and other media, freed thousands of political prisoners, ordered the partial privatisation of massive state-owned companies, ended a state of emergency imposed to quell widespread unrest and removed three opposition groups from a list of "terrorist" organisations.
—
Related:
Eritrea's President Arrives in Ethiopia for First Visit in More Than Two decades
PM Abiy Ahmed to Meet Ethiopian Community in Washington DC July 28th
A Diaspora Trust Fund for Ethiopia and Embracing a Culture of Democracy (Editorial)
With Hugs, Leaders of Rivals Ethiopia, Eritrea Finally Meet
PM Abiy Ahmed to Travel to Washington D.C. & Los Angeles on July 28-29
Images: Washington DC Rally to Support Ethiopia's New PM Dr. Abiy Ahmed
Join the conversation on Twitter and Facebook.