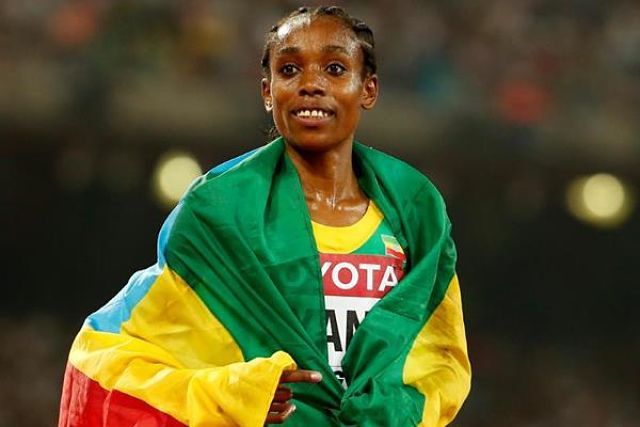 Tadias Magazine
By Tadias Staff
Published: Saturday, July 16th, 2016
New York (TADIAS) — Ethiopia's long-distance team for the Rio 2016 Olympic Games, which is set to kick-off in Brazil next month, includes 24-year-old Almaz Ayana who is aiming to score a double victory in the 5000m and 10000m following in the footsteps of Tirunesh Dibaba's historic win in both fields at the Beijing Olympics in 2008.
"Ayana tops the world lists at both distances this year, having run 14:12.59 for 5000m at the IAAF Diamond League meeting in Rome and 30:07.00 for 10,000m in Hengelo last month," according to the International Association of Athletics Federations (IAAF).
"Reigning Olympic 10,000m champion Tirunesh Dibaba is slated to compete solely over that distance in Rio, though is also listed as a reserve for the 5,000m," IAAF reports. "The 30-year-old will be seeking her fourth Olympic gold medal in Rio, though has competed sparingly so far this year. In her only outing over 5000m, Dibaba clocked 14:41.73 at a small meeting in Kortrijk, Belgium last weekend, and in her sole 10,000m race she finished third in the Ethiopian trial race in Hengelo in 30:28.53."
IAAF adds: "Genzebe Dibaba will narrow her focus and compete over 1500m, the event at which she holds the world record at 3:50.07. The reigning world champion clocked 3:59.83 in her sole outing at that distance in Barcelona last weekend. Dejen Gebremeskel, the silver medallist over 5000m at the London 2012 Olympic Games, will bid to go one better over the same distance in Rio and will be joined by Muktar Edris and Hagos Gebrhiwet. Another looking to go one better in Rio will be Sofia Assefa, the 3000m steeplechase silver medallist at the 2012 Games, though the 28-year-old has a best of just 9:18.16 this year. Former world champion Mohammed Aman is the sole Ethiopian entrant in the men's 800m and will be looking to win his first Olympic medal, having finished sixth in the 800m final four years ago."
ETHIOPIAN TEAM FOR RIO (INCLUDING RESERVES)
MEN
800m: Mohammed Aman
5000m: Muktar Edris, Dejen Gebremeskel, Hagos Gebrhiwet, (Abadi Hadis)
10,000m: Yigrem Demelash, Abadi Hadis, Tamirat Tola, (Ibrahim Jeilan)
Marathon: Tesfaye Abera, Lemi Berhanu, Feyisa Lelisa, (Lelisa Desisa)
3000m steeplechase: Hailemariyam Amare, Chala Beyo, Tafese Seboka, (Birhan Getahun)
WOMEN
800m: Habitam Alemu, Tigist Assefa, Gudaf Tsegay
1500m: Genzebe Dibaba, Besu Sado, Dawit Seyaum, (Gudaf Tsegay)
5000m: Almaz Ayana, Senbere Teferi, Ababel Yeshaneh, (Tirunesh Dibaba)
10,000m: Almaz Ayana, Gelete Burka, Tirunesh Dibaba, (Netsanet Gudeta)
Marathon: Mare Dibaba, Tirfi Tsegaye, Tigist Tufa, (Aberu Kebede)
3000m steeplechase: Sofia Assefa, Hiwot Ayalew, Etenesh Diro, (Weynshet Ansa)
20km race walk: Yehualeye Beletew, Askale Tiksa
—
Related:
Ethiopia: Kenenisa Bekele Among Greatest Olympic Athletes of all Time (TADIAS)
Rio 2016 Olympic Games Athletics Statistics Handbook (IAAF)
Join the conversation on Twitter and Facebook.