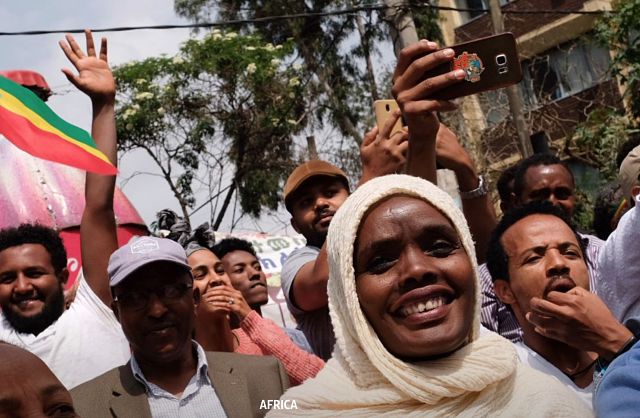 ADDIS ABABA, Ethiopia — In this strategically vital nation of 100 million, a charismatic young leader is delivering shock therapy to one of the world's most entrenched one-party systems.
In the four months since Abiy Ahmed—a 42-year-old former army officer—emerged as prime minister from an opaque power struggle in Ethiopia's ruling party, he has riveted this East African nation with announcements that have shattered political taboos.
The premier has smiled, hugged and glad-handed his way across the country, calling for national reconciliation in the midst of violent ethnic discord, ordering the release of thousands of political prisoners and legalizing opposition groups long classified as terrorists.

He has conceded that Ethiopia's ruling EPDRF coalition—in power since overwhelming the communist junta in 1991—is tainted by corruption and accused the powerful security services of conducting "terrorism" against their own population. He has angered hard-liners by launching a fast-track end to the two-decade conflict with Eritrea, removing a barrier between neighbors that came to be known as Africa's Berlin Wall. Mr. Ahmed recently visited Eritrea to sign a peace agreement and he hosted Eritrean President Isaias Afwerki, who formally reopened Eritrea's embassy in Addis Ababa on Monday for the first time in more than two decades.
Mr. Ahmed has also pledged to liberalize Ethiopia's tightly controlled economy and partly privatize state-owned enterprises, including Ethiopian Airlines, one of the world's fastest-growing carriers. Market analysts expect him to tighten commercial and investment relations with the West over China, which has so far dominated the Ethiopian economy and owns most of the country's massive debt load.
The outcome of Mr. Ahmed's breakneck overhaul agenda could fundamentally reshape politics across the Horn of Africa, a strategic coastline perched on one of the world's busiest shipping lanes and site of mounting geopolitical competition between the Gulf monarchies, Iran, China and the U.S. His agenda has been supported by U.S. policy makers hoping to move a crucial counterterrorism partner closer to Washington and away from Beijing.
Mr. Ahmed's message—and his telegenic delivery—has won him adulation from young and marginalized voters in a country where the median age is 18. Taxi buses in this traffic-choked highland capital are plastered with stickers of the premier smiling or holding his arms aloft. Souvenir shops sell T-shirts bearing his image.
But his sharp rhetorical shift comes with significant risks, lifting the veil on Ethiopia's existential challenges. "It's difficult not to be carried away by the euphoria about Abiy," said Rashid Abdi, an analyst with Brussels-based think tank International Crisis Group. "But he's still struggling with significant pockets of discontent internally, and the frenetic pace of reform is upsetting his conservative critics."
Behind the headlines, Ethiopia's challenges are immense. Lauded internationally for sky-high growth rates, the economy has amassed unsustainable debt to fund an infrastructure spree, while many of its people still face hunger and extreme poverty. A crippling shortage of foreign currency has slowed production in factories and marquee construction projects including the $4.2 billion Grand Ethiopian Renaissance Dam on the Nile, which has been only temporarily alleviated by a $1 billion cash infusion from the United Arab Emirates.
Analysts say Mr. Ahmed's pledge to sell stakes in two of Ethiopia's largest state-owned enterprises—Ethio Telecom and Ethiopian Airlines—has more to do with resolving the currency crisis than a damascene conversion to free market capitalism. Auditors PricewaterhouseCoopers are valuing the assets of EthioTel, and Deloitte, Ernst & Young and others will help advise on the share sale. McKinsey is advising Ethiopia's government on regulatory overhaul in preparation.
—
Related:
PM Abiy Ahmed to Meet Ethiopian Community in Washington DC July 28th
A Diaspora Trust Fund for Ethiopia and Embracing a Culture of Democracy (Editorial)
With Hugs, Leaders of Rivals Ethiopia, Eritrea Finally Meet
PM Abiy Ahmed to Travel to Washington D.C. & Los Angeles on July 28-29
Images: Washington DC Rally to Support Ethiopia's New PM Dr. Abiy Ahmed
Join the conversation on Twitter and Facebook.