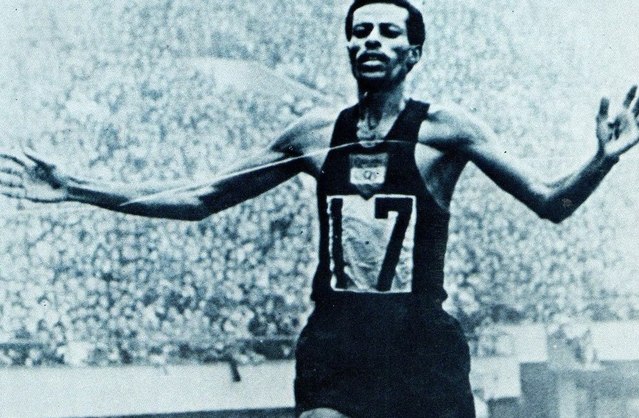 Click here to listen: BBC Remembers Abebe Bikila
VIDEO: 5 Athletes From History Who Have Overcome The Odds (The Huffington Post)
By Hunter Stuart
Abebe Bikila: Unknown Ethiopian Runner Wins Marathon Barefoot (Rome, 1960)
Abebe Bikila, an unknown Ethiopian runner, won the marathon at the Rome Olympics, breaking the world record–and he did it barefoot.
Bikila was from a tiny village in rural Ethiopia and didn't even start running until he was 24 years old. At the time, he was working for the Emperor's Guard and had been noticed by a Swedish coach who was hired by the Ethiopian government to spot potential athletes.
Although Bikila had won multiple marathons in Ethiopia, his finishing times weren't good enough to get him noticed. He wasn't even slotted to go to the Rome Olympics in 1960, but he was sent in place of a teammate who had injured himself.
Bikila was completely unknown when the marathon began. Commentators couldn't even pronounce his name. What got him noticed was his bare feet, which many in the audience and the media found funny. The marathon route in Rome was drawn to showcase the city's splendor, and therefore the runners passed dozens of references to colonialism, hegemony, and fascism. At one point, Bikila passed a 1,700 year old monument that Mussolini had plundered from his native country during World War II.
When Bikila won the race, although he ran it barefoot, he beat the world record, and became the first black African to win an Olympic gold medal. At a time when Africa was beginning to emerge from colonial rule, Bikila became the symbol of an entire continent's resurgence.
Read more at The Huffington Post.
—
Related:
Abebe Bikila: Athletic Legend Honored With Google Doodle (TADIAS)
Join the conversation on Twitter and Facebook.