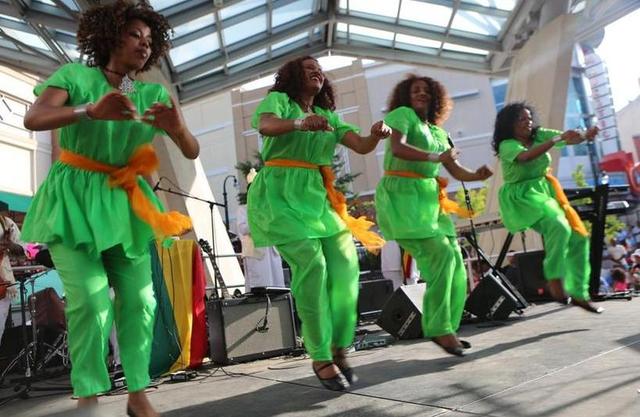 Tadias Magazine
By Tigist Selam | Events News

Updated: Friday, July 27, 2012
Washington, D.C. (TADIAS) – Last weekend's 2012 Ethiopian Festival in Silver Spring, Maryland featured traditional dance, music, food, vendors, award ceremony and a live concert by Mahmoud Ahmed, transforming the downtown Veterans Plaza into Little Ethiopia for the day.
According to organizers, the annual event is also designed to link Ethiopian-American businesses, artists, community leaders, and residents with policy makers, news media, and other private-sector organizations in the metropolitan Washington, D.C. area.
For Tebabu Assefa, Founder of Blessed Coffee, and also one of the festival's chief organizers, the celebration was more personal.
"The whole thing was inspired by the achievement gap. I got two kids, they're going to school, and it all comes down to teaching our kids about their culture and identity," Tebabu said. "It's our obligation to make them aware and inspire confidence in them about who they are." He added: "America is a great place, don't get me wrong, but there are a lot of stereotypical issues underneath. In order for me to combat that I need to tell my children where they come from, a place called Ethiopia, a land of many faces, many cultures and many people. It is my obligation to give my kids a foundation in which they can embrace their American identity. Otherwise we are deforming them, we are displacing them, we are misinforming them."
Tebabu said his efforts are also his way of responding to the wide-spread "victim narrative" when it comes to media coverage of Ethiopia and Ethiopians.
"I am going to be very open, bold and straight," he said. "On the flip side, for far too long I was offended by one-sided, sensationalized negative image of Ethiopia defined by Western media because we have not done our job." Tebabu continued: "Of course, some of those stories are based on reality, but we are much more than that. It is our responsibility to fill that gap."
Below is a slideshow from Maryland's 2nd Annual Ethiopian Festival.
—
Comments:
Join the conversation on Facebook.