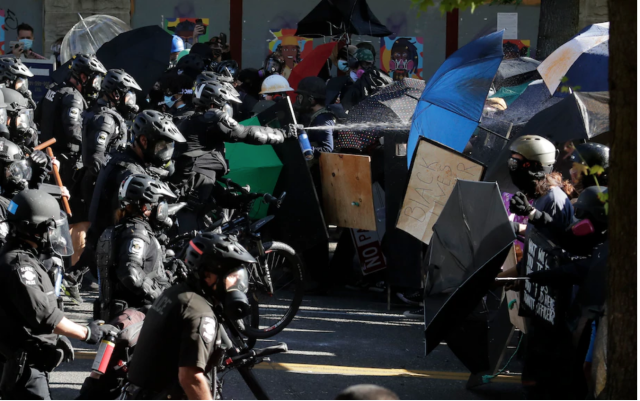 The Washington Post
Protests explode across the country, police declare riots in Seattle, Portland
SEATTLE — Protesters marched across the country Saturday night, energized by the week of clashes between activists and federal agents in Portland, Ore.
In Portland, the authorities declared a riot after protesters breached a fence surrounding the city's federal courthouse building. The "violent conduct of people downtown" created a "grave rise of public alarm," the Portland police wrote on Twitter.
Early Saturday morning, federal agents and local police demanded that protesters leave the area and use teargas. But the activists stood their ground, blocking intersections. Several people were arrested.
In Austin, a man was shot and killed at a protest downtown as he marched with a group of protesters. "Someone dying while protesting is horrible," Mayor Steve Adler of Austin said in a statement. "Our city is shaken and, like so many in our community, I'm heartbroken and stunned."
Protesters in Omaha marched to bring attention to the killing of James Scurlock, a black man killed by a white bar owner. In Los Angeles, police fired projectiles at activists protesting near a federal courthouse.
The Seattle Police Department declared a riot on Saturday afternoon and used nonlethal weapons in an attempt to disperse a crowd of roughly 2,000 people in the Capitol Hill neighborhood marching in the city's largest Black Lives Matter protest in more than a month.
The riot declaration came after protesters set fire to a construction site for a juvenile detention facility and as the police department reported that one person had breached the fencing surrounding the East Precinct, the site of nightly clashes in June that led to a nearly month-long protest occupation, and officers saw smoke in the lobby.
Police said protesters were throwing rocks, bottles and fireworks at the officers. As of 7:30 p.m. local time, the department had reported 25 arrests and three police injuries, including an officer hospitalized with a leg injury caused by an explosive. The department posted a photo of unused fireworks found at the scene to its Twitter feed.
Protesters erected barricades and fended off police efforts to disperse them with homemade shields, umbrellas and leaf blowers, tactics borrowed from Portland, Ore., protests, where activists have clashed nightly with police for nearly two months.
Early Saturday, a U.S. District judge issued a temporary restraining order against a Seattle City Council ordinance banning crowd control devices such as pepper spray, rubber bullets, flashbangs and blast balls.
Related:
Leaf-blower wars: How Portland protesters are fighting back against tear gas and forming 'walls' of veterans, lawyers, nurses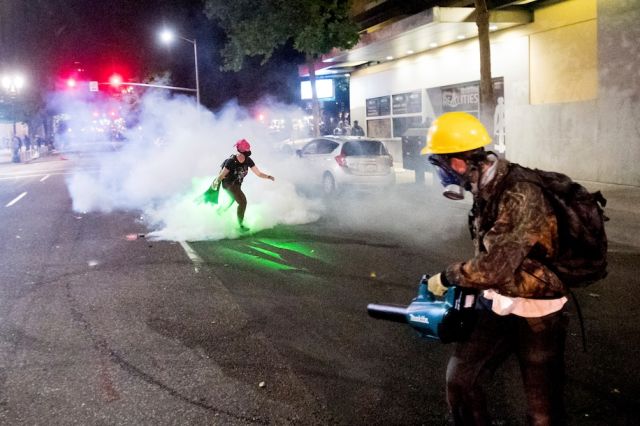 A protester runs through a cloud of chemical irritant near the federal courthouse on Tuesday in Portland, Ore. At right is one of several members of "PDX Dad Pod" who brought leaf blowers to blow back tear gas fired by police. (AP photo)
The Washington Post
PORTLAND, Ore. — The tear gas started early Friday night, interrupting a line of drums and dancing, chanting protesters, an artist painting in oils underneath a tree in the park and a man with a microphone speaking about the issues of racial justice and policing at the center of these nightly demonstrations.
"Hey guys, don't panic, don't panic," the man said from the steps of the Multnomah County Justice Center, one block over from the federal courthouse in downtown Portland. "All you first-timers out here, it's just tear gas. Everybody just relax."
As if on cue, a brigade of orange-shirted men with leaf blowers descended on the cloud, revved their engines and blew the tear gas away. The crowd cheered.
"Thank you leaf-blower dads!" shouted a young woman.
Every night for more than a week, federal agents have been unleashing a barrage of tear gas on crowds of demonstrators, a small number of whom have lobbed fireworks at the federal courthouse, set fires and tried to tear down a tall, reinforced metal fence surrounding the building. The noxious fog burns and stings. Some people who get hit with the dense plumes of chemicals that cloud Portland's streets each night feel like they can't breathe, like their eyes are on fire, like they might vomit onto the asphalt.
Though some Portlanders have been able to get respirators, goggles and gas masks to protect themselves from the worst effects of the riot control agent known as CS gas, many others have turned to a familiar landscaping tool to blow the chemicals away: leaf blowers.
The loud, pressurized air machines typically used to clear grass, leaves and other lawn debris are surprisingly effective tools at clearing caustic chemicals from the air. They're so effective that on Friday night, federal agents frustrated at being caught in up in a redirected cloud of tear gas, showed up to the demonstration with their own handheld blowers.
The leaf-blower wars were on.
—
One man killed and a suspect is arrested after shots fired during protests in Austin (CNN)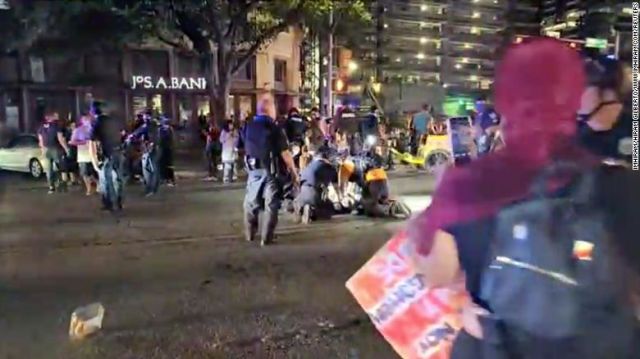 Police gather around a man who was shot during a Black Lives Matter protest in downtown Austin. (CNN)
(CNN) One man is dead and a suspect is in custody after a shooting during a protest in Texas, police said.
Officers were at the scene monitoring protesters gathered in downtown Austin in solidarity with the Black Lives Matter movement when shots rang out Saturday night, Austin senior Police Officer Katrina Ratcliff said.
They found a man with a gunshot wound, who was taken to a local hospital and pronounced dead, Ratcliff said. No one else was injured.
Initial reports indicated the victim may have been carrying a rifle and approached the suspect's vehicle. The suspect was in the vehicle and shot at the victim, Ratcliff said.
The suspect was detained and is cooperating and there is no longer a threat to the public.
Ratcliff did not take any questions and said it "was very early in an active investigation."
—
Police and protesters clash in violent weekend across the US (AP)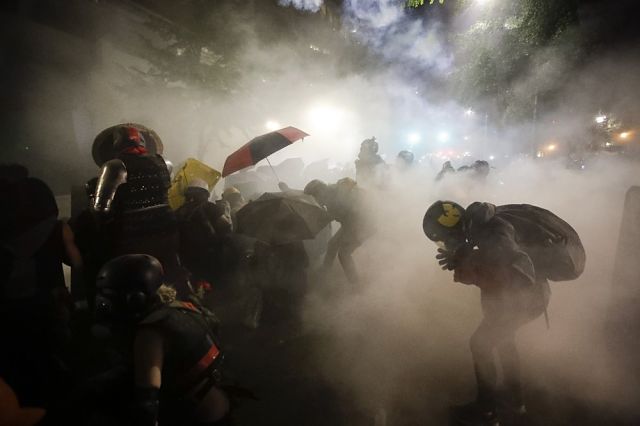 Federal officers launch tear gas at a group of demonstrators during a Black Lives Matter protest at the Mark O. Hatfield United States Courthouse Sunday, July 26, 2020, in Portland, Ore. (AP Photo)
Updated: July 26th, 2020
Federal officers launch tear gas at a group of demonstrators during a Black Lives Matter protest at the Mark O. Hatfield United States Courthouse Sunday, July 26, 2020, in Portland, Ore. (AP Photo/Marcio Jose Sanchez)
ATLANTA (AP) — Protests took a violent turn in several U.S. cities over the weekend, with demonstrators squaring off against federal agents outside a courthouse in Portland, Oregon, forcing police in Seattle to retreat into a station house and setting fire to vehicles in California and Virginia.
A protest against police violence in Austin, Texas, turned deadly when a witness says the driver of a car that drove through a crowd of marchers opened fire on an armed demonstrator who approached the vehicle. And someone was shot and wounded in Aurora, Colorado, after a car drove through a protest there, authorities said.
The unrest Saturday and early Sunday stemmed from the weeks of protests over racial injustice and the police treatment of people of color that flared up after the May 25 death of George Floyd in Minneapolis. Floyd, who was Black and handcuffed, died after a white police officer used his knee to pin down Floyd's neck for nearly eight minutes while Floyd begged for air.
In Seattle, police officers retreated into a precinct station early Sunday, hours after large demonstrations in the city's Capitol Hill neighborhood. Some demonstrators lingered after officers filed into the department's East Precinct around 1 a.m., but most cleared out a short time later, according to video posted online.
At a late-night news conference, Seattle police Chief Carmen Best called for peace. Rocks, bottles, fireworks and mortars were fired at police during the weekend unrest, and police said they arrested at least 45 people for assaults on officers, obstruction and failure to disperse. Twenty-one officers were hurt, with most of their injuries considered minor, police said.
In Portland, thousands of people gathered Saturday evening for another night of protests over George Floyd's killing and the presence of federal agents recently sent to the city by President Donald Trump. Protesters breached a fence surrounding the city's federal courthouse building where the agents have been stationed.
Police declared the situation to be a riot and at around 1:20 a.m., they began ordering people to leave the area surrounding the courthouse or risk arrest, saying on Twitter that the violence had created "a grave risk" to the public. About 20 minutes later, federal officers and local police could be seen attempting to clear the area and deploying tear gas, however protesters remained past 2:30 a.m., forming lines across intersections and holding makeshift shields as police patrolled and closed blocks abutting the area. Multiple arrests were made, but it wasn't immediately clear how many.
In the Texas capital of Austin, a protester was shot and killed Saturday night after witnesses say he approached a car that had driven through a march against police violence. In video streamed live on Facebook, a car can be heard honking before several shots ring out and protesters start screaming and scattering for cover. Police could then be seen tending to someone lying in the street.
Michael Capochiano, who attended the protest, told the Austin American-Statesman that the slain protester had a rifle and that the car's driver fired several shots at him before speeding away. Police said the driver was detained and was cooperating with investigators.
In the Denver suburb of Aurora, Colorado, meanwhile, a protester shot and wounded someone after a car drove through a crowd marching on an interstate highway, police said. The wounded person was taken to a hospital in stable condition. Police didn't release many details about the shooting, including whether the person who was shot had been in the car. Police said on Twitter that demonstrators also caused "major damage," to a courthouse.
Protesters in Oakland, California, set fire to a courthouse, damaged a police station, broke windows, spray-painted graffiti, shot fireworks and pointed lasers at officers after a peaceful demonstration Saturday evening turned to unrest, police said.
In Virginia's capital, Richmond, a dump truck was torched as several hundred protesters and police faced off late Saturday during a demonstration of support for the protesters in Portland. Police declared it to be an "unlawful assembly" at around 11 p.m. used what appeared to be tear gas to disperse the group.
In downtown Atlanta on Sunday, federal agents examined damage to an Immigration and Customs Enforcement field where windows were shattered late Saturday. The FBI and the Department of Homeland Security, FBI spokesman Kevin Rowson said in an email. No arrests had been announced.
And in Baltimore, people from a group of nearly 100 demonstrators spray-painted anti-police messages on a Fraternal Order of Police building and adjacent sidewalks on Saturday night, The Baltimore Sun reported.
—
Join the conversation on Twitter and Facebook.