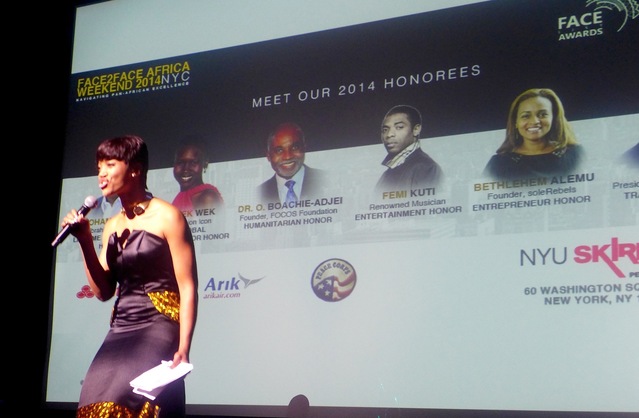 Tadias Magazine
By Tadias Staff
Published: Sunday, July 27th, 2014
New York (TADIAS) – On Saturday evening at New York University's Skirball Center for the Performing Arts a diverse and stylish crowd of African professionals filled the hall to celebrate and honor six trailblazers from the African continent in business, fashion, entertainment, social innovation and democratic governance.
Among those recognized by the pan-African media company Face2Face Africa include Bethlehem Tilahun Alemu of Ethiopia who received the "Entrepreneur Award" for her pioneering work as Founder and CEO of the international footwear brand SoleRebels. The "Humanitarian Honor" was awarded to U.S.-based Ghanaian social entrepreneur Dr. Oheneba Boachie-Adjei, Founder of FOCUS (Foundation of Orthopedics and Complex Spine) which provides orthopedic care to patients in Ghana and several other African countries.
The Global Ambassador Honor was given to South Sudanese British model and designer Alek Wek who saluted all the honorees and pointed out that "Africa needs more women in business and entrepreneurship like SoleRebel's Bethlehem Tilahun" and added that above all education is the key for all. She reminded the audience to " study hard, stay focused and celebrate others."
The Trailblazer award went to Masai Ujiri – the Nigerian-born President and General Manager of Basketball Operations at the Tronto Raptors organization. The Entertainment Honor was also given to Nigerian Afrobeat pioneer Femi Kuti, who spoke about the need to "focus globally not just Africa."
The Lifetime Achievement Honor was conferred on Sudanese-British mobile communications entrepreneur and billionaire Dr Mohamed "Mo" Ibrahim – who was not present, but sent a video message accepting the accolade.
Below are photos and video from the event:
Video: The Face2Face Africa Awards Gold Carpet Presentation

—
Related:
Oprah Magazine Names Bethlehem Tilahun Alemu to Annual Power List
Join the conversation on Twitter and Facebook.