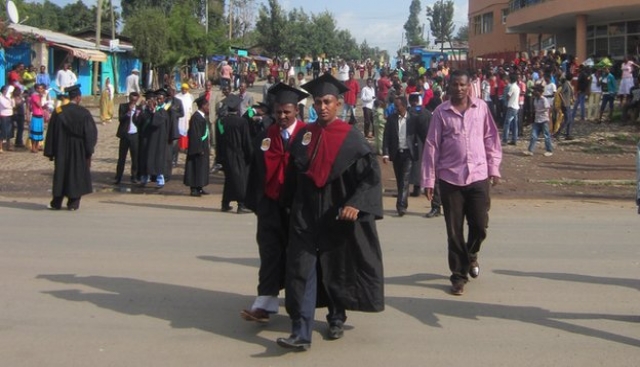 By Hewete Haileselassie
27 July 2014
Ethiopia – "Yeshi" is still trying to come to terms with the trauma of discovering the body of her son being carried through the streets of the Ethiopian city of Ambo.
A rickshaw driver in his 20s, he had been caught up in deadly protests between the police and students in the city in April.
They were demonstrating about plans to extend the administrative control of the capital, Addis Ababa, into Oromia state.
Oromia is the country's largest region and completely surrounds Addis Ababa – and some people feared they would be forced off their land and lose their regional and cultural identity if the plans went ahead.
The government says the "Masterplan", as it is known, would allow them to better extend city services to rural areas.
Read more at BBC News »
—
Related:
Minnesota Senate Condemns Recent Violence in Ethiopia's Oromia State
The Brutal Crackdown on Ethiopia Protesters (Human Rights Watch)
Deadly Ethiopia Protest: At Least 17 Ambo Students Killed in Oromia State (VOA)
Ethiopia protest: Ambo students killed in Oromia state (BBC)
Students killed in violent confrontations with police in Ethiopia's largest state (AP)
Ethiopia: Oromia State Clashes Leave At Least 11 Students Dead (International Business Times)
Ethiopia: Discussing Ethnic Politics in Social Media (TADIAS)
Join the conversation on Twitter and Facebook.