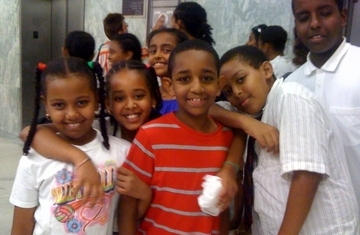 Tadias Magazine
OP-ED
By Saba Fassil

Published: Thursday, July 29, 2010
WASHINGTON (TADIAS) — Two weeks ago, about 20 young people from the Ethiopian Community Center in D.C., along with their peers from other communities, descended on the U.S. Senate, where they delivered over 11,000 letters urging lawmakers to pass "The International Protecting Girls by Preventing Child Marriage Act."
The bill, if passed, will authorize President Obama to provide assistance, including through multilateral, non-governmental, and faith-based organizations, to prevent child marriage in developing countries and to promote the educational, health, economic, social, and legal empowerment of girls and women.
According to USAID, the marriage of girls under 18 is a common practice in many developing countries, including Ethiopia, and in some regions it is a deeply-rooted tradition. USAID research shows that "the practice can produce large families, poverty, medical complications due to early childbearing, increased vulnerability to HIV/AIDS, high rates of divorce, and interruption of education." There are already an estimated 60 million girls worldwide who are child brides; without serious action to end this harmful tradition 100 million more girls are expected to be forced into marriage in the next decade.
The lobbying effort, which was coordinated by Plan USA – part of Plan International, a world-wide non-profit organization with country offices in 48 developing countries including Ethiopia – used letters written by volunteers from each of the 50 states asking the Senators for their support to pass the law so that no girl ever has to be forced into marriage, at ages as young as seven!
Helina, a student at Cardozo Senior High School in Washington, D.C., is one of the leaders of the youth delegation. She was born in Ethiopia where half of all girls are married by age 14 in the northern Amhara region. "Child marriage is terrible," says Helina. "Kids should be able to stay in school and get an education, and not be forced into marriage. We need to do something about it. We have to make sure people are aware of this situation."
Sixteen-year-old Shayna, a D.C. student at School Without Walls says, "It is important for girls my age or younger to go through their childhood experience in a positive way so they can grow and become strong young women, and know what it is they want for themselves and get proper education, develop friendships and connections with others. Ultimately having strong and beautiful young women in this world will make this world a better place."
Mamadou,12, is a boy trying to stand up for girls, something you don't usually see on the school playground. But he wants to help stop the practice of child marriage, a tradition that stands to affect 100 million more girls in the coming decade. "It just basically messes up your whole life. Just imagine yourself as a young child wanting to be a doctor. But then you get married at a young age, do you really think that those dreams are still alive?"
Nardos, a young Ethiopian-American girl, was brimming with excitement to be walking into Senate offices, gladly attending a Congressional hearing about child marriage and speaking to Senate aides.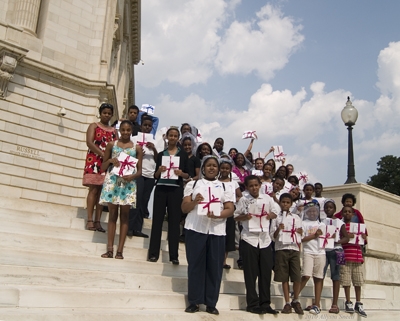 The kids gather to lobby congress on July 15, 2010. Courtesy Photo.
Hopefully this youth-led effort will help push the Senate, in its final marathon before adjourning for the year, to pass this important act, and help millions and millions of girls worldwide have the chance to be just girls, not wives.
These young global citizens are participants of "Because I am a Girl" – Plan International's campaign to fight gender inequality, promote girls' rights and lift millions of girls out of poverty.
–
Saba Fassil is a graduate of the George Washington University, where she earned a B.S. in Economics.
Related:
Tesfaye Girma Deboch: Friends Seek Closure in WSU PhD Student's Drowning Case
Join the conversation on Twitter and Facebook