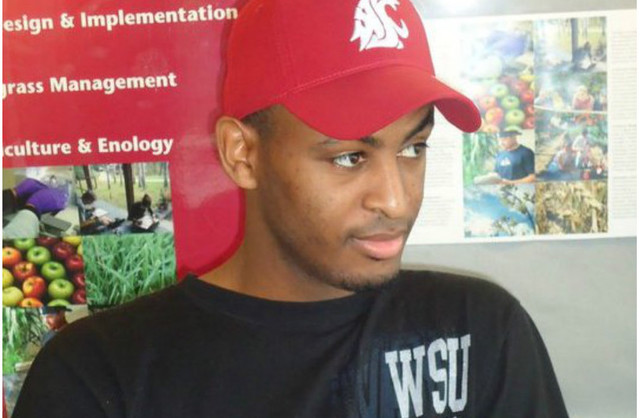 Tadias Magazine
By Tadias Staff
Updated: Tuesday, August 6, 2013
New York (TADIAS) – 27-year-old Tesfaye Girma Deboch is remembered by his family and friends as a humorous, friendly, focused and sharp student who was slated to earn his PhD in Economics next year from Washington State University. Instead he was found dead on June 30th, 2013 at the bottom of an indoor swimming pool at the Quality Inn & Suites hotel in Seattle. Tesfaye and 14 of his classmates from WSU's graduate School of Economic Sciences were in the city attending the Western Economics Association International Conference.
Authorities say the investigation is still ongoing, and Tesfaye's friends say many questions remain unanswered in this case, including why it took the Seattle Fire Department three hours and two visits to properly search for the drowning victim. The swimming pool's history of chlorine level violations that caused inspectors to shut down the location on multiple occasions in the past, according to The Seattle Times, should also be investigated.
"The water was so murky no one could see the bottom of the indoor pool," the newspaper reported at the time. "Firefighters used a rescue hook and thermal imaging to search the water, but eventually left, certain that Deboch had left the pool area…even though his shoes, shirt, wallet and phone were still near the pool."
Tesfaye, who was reported missing around at 5:30 that afternoon, was eventually discovered after his friends and a retired firefighter sitting nearby decided to take a second look inside the pool. The fire department was called back again at 8:12 PM, but it was too late to save the victim. In an article published on July 12th The Seattle Times reported: "The King County Medical Examiner's Office determined Deboch drowned."
For family and friends, Tesfaye's sudden death is a very sad and painful episode. For the community at large, it's another tragic story of a promising young life cut short too early.
"I have known Tesfaye since elementary school," said his childhood friend Saba Fassil. "Tesfish and I were often slightly competitive in a friendly way when it came to academics but he always managed to beat me," She added: "He was extremely brilliant and very humble about it."
Saba said her friend was a person with an "outstanding" character. "So many of us who have had a chance to cross path with Tesfaye's life had a great expectation for his future," she said. "Please don't take it as an exaggeration, when I say that I saw in him a future Ethiopian leader — not necessarily in the political sense but in terms of doing something revolutionary in Ethiopia and beyond."
What she misses most about her friend, Saba said, is his infectious personality. "Gentle yet funny, smart and goofy, and his love for life was evident to every soul he has touched in his short stay on this earth."
Another friend, Egla-Duni Y. Negussie, shared that for her Tesfaye is one of a kind. "I say this because I have known him since 3rd grade," she said. "We even finished college together abroad. I vouch for Tesfish's extraordinary personality."
Saba recalled that a week prior to Tesfaye's death, the two were talking about possibly meeting up in Ethiopia as both had upcoming trips planned there later this summer. But she said, "On July 7, 2013, I faced the saddest reality of welcoming my friend's body to Ethiopia gathered at Bole airport among his friends and family members. I dread that day because it made this far away bad news from Seattle an unfathomable reality." She added: "It was gut-wrenching to see his family and loved ones deal with the unexplained. Truly gone too soon."
Egla-Duni agreed: "Like every one of his loved ones, I just can't seem to comprehend the way he passed."
We send our condolences to Tesfaye's family and friends, and make a call for a more complete investigation of the drowning incident.
Below are additional photographs of Tesfaye Girma Deboch.

—
Related:
Murky water hindered search for man who died in hotel pool (The Seattle Times)
Join the conversation on Twitter and Facebook