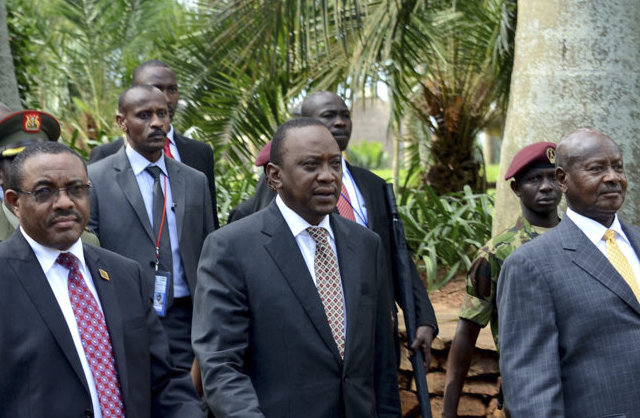 Tadias Magazine
By Dagnachew Teklu

Published: Tuesday, August 6, 2013
Washington D.C (TADIAS) – Leaders of five troop contributing countries to the African Union's peacekeeping force in Somalia, AMISOM, met on Sunday in Kampala, Uganda for an emergency session where they discussed ways to harmonize ongoing efforts to neutralize al-Shabab militants in Somalia by encouraging the government in Mogadishu to "reintegrate" more moderate groups into the national army.
Ethiopia's Prime Minister Hailemariam Desalegn, who is the current chairman of the African Union, attended the regional gathering along with heads of state from Kenya, Uganda, Burundi, Djibouti and Sierra Leone. All of them have peacekeeping troops in Somalia under the AU peacekeeping mission.
AMISOM was first deployed six years ago to support the transitional government in Mogadishu.
The leaders also discussed achievements and challenges of the mission, which in recent months has seen al-Shabab gaining grounds, still making it a security threat to the central government.
Sunday's conference was chaired by President Yoweri Museveni of Uganda, whose country deployed the first troops under the AMIOSM mandate in 2007. As of this year the force consists of 5,432 from Burundi, 999 from Djibout, 4,040 (Kenya), 850 (Sierra Leon) and 6,223 Ugandan troops.
The UN, EU and the AU as well as the U.S. are among the international financial backers of the continental peacekeeping mission.
Ethiopia announced last week that it has no immediate plans to withdraw its troops from the country.
—
Related:
UPDATE: Senior Ethiopian Air Force Pilots Among Those Killed in Mogadishu Crash
Ethiopian Military Plane Crash Lands in Mogadishu (Photos)
African leaders want disputed Somali city annexed (AP)
AU to Mark World Humanitarian Day in Addis Ababa (TADIAS)
Ethiopia: Muslims Clash With Police During Eid Protests (Africa Review)
Join the conversation on Twitter and Facebook