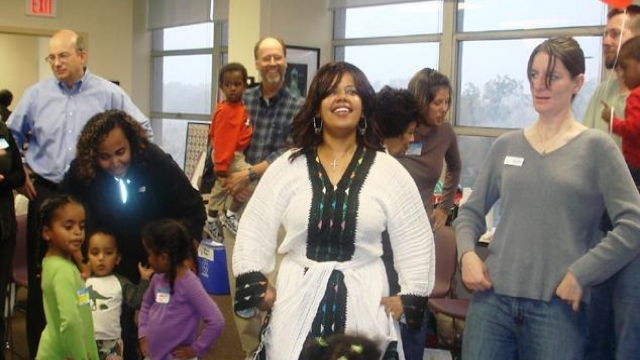 Tadias Magazine
By Tadias Staff
Published: Friday, July 29, 2011
New York (TADIAS) – The Ethiopian Heritage and Culture Camp at Massaneta Springs, situated in the heart of Virginia's Shenandoah Valley, provides a family-friendly getaway for adopted Ethiopian children and their American parents who get to immerse themselves in a weekend of all things Ethiopian.
The Washington Post reports that the camp fulfills a growing demand by adoptive parents who seek to connect with their children's native culture. In 2010 more than 2,500 children were adopted from Ethiopia, which has resulted in an increased demand for information about the country. "We thought it was important for us to learn about our daughter's culture and help her maintain that identity," Mark Boucher told The Washington Post. He came to the camp from Albany, N.Y., with his family of four, including Lidia, the 7-year-old girl that they adopted three years ago.
The inter-generational summer camp was founded by Mekdes Bekele, who is also a mother of a young daughter. In an interview with Tadias Magazine about the summer camp in 2009, Mekdes noted: "We have the common goal of raising first generation Ethiopian Americans. What we offer is a venue and the opportunity for like-minded parents of children with Ethiopian heritage to interact with each other and share experiences and knowledge on how to raise confident, capable, and compassionate Ethiopian-Americans. For example, at this camp we will cover topics that apply to all of us such as: raising confident children in a culture conscious world who are struggling for identity, and parents will learn from the experiences of Ethiopian-American young adults on the challenges and the opportunities of growing up in America."
Read more at The Washington Post »
—
Join the conversation on Twitter and Facebook.