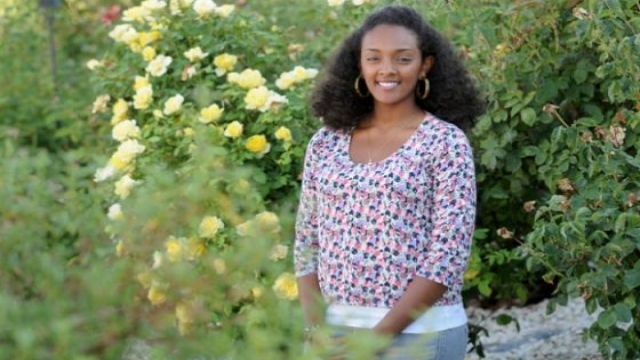 Tadias Magazine
By Tadias Staff
Updated: Tuesday, July 26, 2011
New York (Tadias) – The last time Abigail Mariam was highlighted in Tadias Magazine, she was the recipient of the 2010 Young Humanitarian Award given by The St. Mary Hospital Foundation in California. She was recognized last fall for her activities at the medical center where she began volunteering in 2007 while simultaneously juggling school work and several extra curricular programs, including co-founding an on-campus tutoring club and completing five Advanced Placement courses.
Now Abi is headed to Harvard University to study public policy. And she was also one of 23 teens honored this past weekend as part of the biennial Nestlé Very Best In Youth program hosted by the Nestle' USA. The red-carpet event, which applauds exceptional students both in academics and community service, took place on July 23 at the Universal City Hilton Hotel in Los Angeles.
"Abigail Mariam was in eighth grade when she was bit by the service bug…Her uncle took her on a trip with his yoga group to serve peanut butter sandwiches to the homeless hanging around the former Forrest Park on Seventh Street in Victorville," reported The Daily Press, a newspaper serving Victor Valley, California area. "After experiencing firsthand what it felt like to help someone in need, she couldn't shake the urge to give back to the community…Now barely 18 years old and headed to Harvard University in the fall, the Granite Hills High School graduate has had a hand in projects benefiting younger students, animal shelters, cancer survivors, Haitian earthquake victims, Ugandan children, troops overseas and patients and families at St. Mary Medical Center — to name a few."
"I'm kind of a service freak," Abi told The Daily Press. "If I go a day without doing some kind of kindness I feel like I'm a bad person."
She was chosen out of 3,500 applicants as one of the winners of the 2011 Nestle's Very Best in Youth – a national program designed to spotlight and reward young people who have shown outstanding leadership in public service while they aim to inspire others to engage through personal initiative to make a profound impact on the world.
According to The Daily Press: Abi's "commitment to service, along with her 5.0 academic record and stellar writing skills, have earned her the elite status as one of 23 students in the United States to be named 2011 Nestle's Very Best in Youth."
"Nestlé USA is dedicated to America's youth," says Kenneth W. Bentley, Nestlé Vice President of Community Affairs & Educational Programs and author of the Nestlé Very Best In Youth book series, in a comment posted on the organization's website. "Young people are the future of this country, and it is up to adults to see that they are given the encouragement they need to reach their goals."
In addition to receiving $1,000 to donate to the charity of their choice, a biographical essay reflecting each winner's most noteworthy characteristics and achievements will be published in a book entitled Making a Difference Today for a Better Tomorrow, which will be distributed nationwide to schools and youth organizations that can point to students like Abi as role models.
"Honestly I was very surprised when I was accepted because I was looking at the profiles of past winners and I was very humbled to think that I could be put in the same league as these other incredible, incredible kids," Abi told the newspaper.
Read more about Abigail Mariam at The Daily Press.
—–