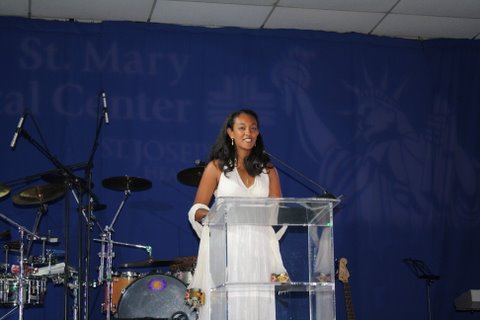 Tadias Magazine
Events News
Published: Monday, October 4, 2010
New York (Tadias) – The St. Mary Hospital Foundation hosted its 19th annual Gala at the San Bernardino County Fairgrounds last week. The event, held on Saturday, September 25, 2010, recognized a number of honorees for their contributions to the organization during the year – including Ethiopian American high school student Abi Mariam, who was named this year's Young Humanitarian.
The theme for 2010 was "The High Desert … A World of Possibilities" and was sponsored by High Desert Primary Care Medical Group and Premier Healthcare.
Abi, who began volunteering at St. Mary Medical Center in 2007, was honored for her activities at the hospital while simultaneously juggling school work and several extra curricular programs, including co-founding an on-campus tutoring club and completing five Advanced Placement courses. Her mother, Mesrak Gessesse, is Director of Network Development at St. Mary, and her father, Alemayehu G. Mariam, is a lawyer and professor at Cal State San Bernardino. "I've grown up at St. Mary Medical Center," Abi said. "I like being able to give back to an organization that's given a lot to my family and my community."
After high school, Abi plans to attend college and study political science and government. "I have been fortunate to realize at a young age that a life serving others is a life well lived, and I believe my talents and interests will be best directed to helping others through my understanding and usage of our government," she said. "I've been blessed with an unbelievably supportive family, wonderful teachers and amazing friends…These gifts are not mine to keep; they're something I should share with others, and the only way I can give back some of what I've been given is through service."
The other honorees included Dr. David Bolivar, who was also named Humanitarian of the Year in part because of the school he recently helped to build in Colombia; Ron and Dorthy Axelrod, who were acknowledged as Patrons of the Year for their charitable estate planning through St. Mary Hospital Foundation; and Dr. William Suval and his wife Diane, who were recognized as this year's Honorary Chairs for their extensive involvement in community-oriented programs.
–
Learn more about the event at Victorville Daily Press. Abi also blogs at Shades of Gray.