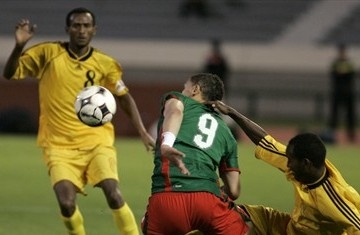 Above: Ethiopia's Grum Siyoum (R) fights for the
ball with Morocco's Benjalloun Abdessalam (C) during their 2010 World
Cup qualifying soccer match in Casablanca May 31, 2008.
REUTERS/Rafael Marchante(MOROCCO)
Ethiopia to go to court over FIFA ban (The Guardian)
ADDIS ABABA, July 31 (Reuters) – Ethiopian soccer authorities said on Thursday a suspension by FIFA was illegal and that they would take their case to the Court of Arbitration for Sport (CAS).
FIFA suspended the Ethiopian Football Federation (EFF) on Tuesday after it repeatedly failed to comply with a February 2008 agreement aimed at restoring its officially recognised leaders.
"The ban imposed by FIFA is illegal and EFF will take its case to the international Court of Arbitration for Sport," the body said in a statement.
Unless the suspension is lifted, Ethiopia will not be able to play their next international match, a 2010 World Cup qualifier against Morocco on Sept. 7.
The statement urged FIFA and the Confederation of African Football (CAF) to send a delegation to Ethiopia to investigate the problem. (Reporting by Tsegaye Tadesse; Editing by Sonia Oxley). Read More.