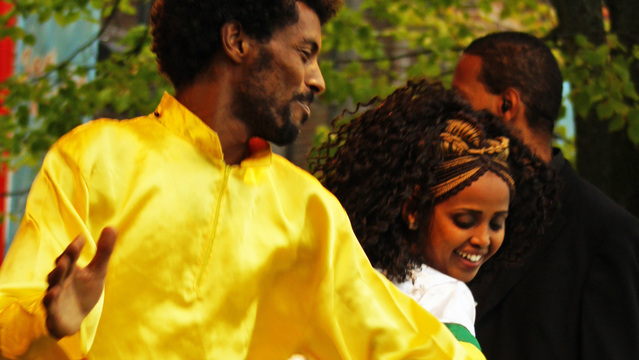 Tadias Magazine
By Tigist Selam

Updated: Tuesday, August 2, 2011
New York (Tadias) – Debo band and Fendika dance group will perform near Los Angeles's Little Ethiopia at Levitt Pavilion for the Performing Arts at MacArthur Park on Friday August 6.
The group is also expected to make its first appearance in Northern California this coming weekend when they perform live at the "Historic Sweets Ballroom" in Oakland. The Oakland event is being hosted by the Ethiopian Arts Forum of the Bay Area and will take place on Saturday, August 6th.
In the East Coast, "Ethiopian funk invades Washington as Debo welcomes Lounge Lizards to the Kennedy Center's Atrium on the roof terrace level for an extraordinary happy hour," reports The Washington Examiner. The D.C. concert is slated for August 8th.
The band will then head to New York for an outdoors performance at the Lincoln Center – Damrosch Park, scheduled for Thursday, August 11th.
Debo, the Boston-based Ethio-groove ensemble, and Fendika, the Addis Ababa-based cultural dance group, have been collaborating on joint international shows since 2009. "U.S. audiences went crazy for the traditional dancing of [Fendika]," said Debo's band leader Danny Mekonnen in an interview with Tadias Magazine in regards to the group's recent tour. "I think seeing the dance of a culture immediately creates a greater appreciation and understanding of the music."
Watch: Debo Band Tour 2011 from Ashley Hodson on Vimeo

Debo Band Tour 2011 from Ashley Hodson on Vimeo.
Debo is an Ethiopian American band. And its unique instrumentation – including horns, strings and accordion – was inspired by the Golden Age of Ethiopian music in the late 1960s and early 70s, but its accomplished musicians are giving new voice to that sound.
The Ethiopian traditional dance and music troupe, Fendika, includes amazing young Azmari artists led by one of Ethiopia's leading dancers Melaku Belay. Belay, who is one of the most active arts advocates in the Addis Ababa scene today, is an innovative and virtuoso interpreter of Eskista. Belay performed at the Lincoln outdoors concert in 2008 with legendary saxophonist Gétatchèw Mèkurya and The Ex band.
Regarding the collective's upcoming NYC show – which will be held at the same venue where the historic concert featuring Mahmoud Ahmed, Alemayehu Eshete, and Getachew Mekuria took place three years ago – Danny said he is eagerly anticipating his New York gig.
"I can't tell you how I excited I am to present Debo Band with special guests Fendika at Lincoln Center Out of Doors!", he said. "I was at the historic concert in 2008 with Getachew Mekuria, Mahmoud Ahmed, and Alemayehu Eshete."
Danny adds: "I loved the collaborations with saxophonist and The Ex and vocalists and The Either/Orchestra. I think that audiences will remember Melaku as the dancer with Getachew and the Ex. I'm honored that my band is the next group to present Ethiopian music to Lincoln Center audiences. Also, I'm thrilled to have Melaku as the project's co-leader. He is a visionary Ethiopian artist and his work with Fendika is second to none."
Click here to read Tadias Magazine's recent interview with Danny Mekonnen.

—-
If You Go:
Los Angeles Friday August 6 at 7PM
Levitt Pavilion for the Performing Arts – MacArthur Park
230 West 6th Street Los Angeles, CA 90057
Info: FREE – call 213-384-5701
For more details: http://levittla.org/en/calendar.html
Oakland Saturday August 6th at 9PM
Historic Sweets Ballroom
1933 Broadway, Oakland, CA 94612
Door: $20.00
Venue phone: 510-501-3413
More info at: ethiopianartsforum.org
Washington, D.C. Monday August 8th at 6pm
Where: Kennedy Center Atrium, Millennium Stage
Who: Debo Band / Fendika
When: Lounge opens at 5:30 p.m.
Info: Free, 202-467-4600 or kennedy-center.org
New York City Thursday August 11 at 7:00pm
Lincoln Center – Damrosch Park
Lincoln Center's Plaza
B/N Broadway & Amsterdam Avenues
West 62nd Street to West 65th Street
Visit LCOutofDoors.org for complete schedule
Call 212-875-5766 to request a brochure.
Direction to Lincoln Center – Damrosch Park:
Take No.1 IRT to 66th Street/Lincoln Center Station)
OR the A, B, C, D and No. 1 trains to 59th St/Columbus Circle.
Video: Addis Ababa Bete – Debo Band with Fendika Dancers at Joe's Pub, NYC, September 2010