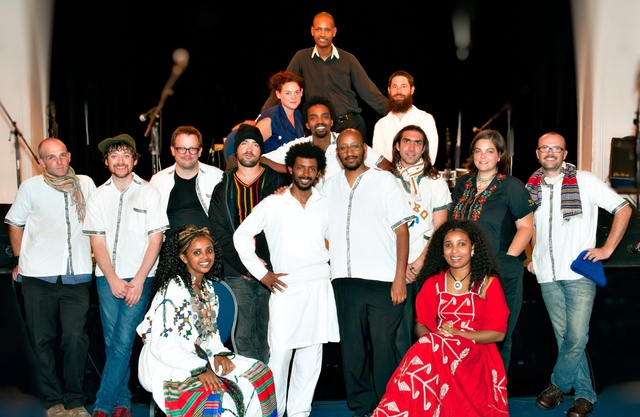 Tadias Magazine
By Tigist Selam

Published: Thursday, July 14, 2011
New York (Tadias) – The Boston-based Ethio-groove ensemble, Debo, and the Addis Ababa-based cultural dance group, Fendika, are set to collaborate on another exciting NYC summer concert. This time, the collective will perform on August 11 at The Lincoln Center Out of Doors, the same venue where the historic concert featuring Mahmoud Ahmed, Alemayehu Eshete, and Getachew Mekuria took place in 2008.
Debo is an Ethiopian American band led by Danny Mekonnen. The band's unique instrumentation – including horns, strings and accordion – was inspired by the Golden Age of Ethiopian music in the late 1960s and early 70s, but its accomplished musicians are giving new voice to that sound.
The Ethiopian traditional dance and music troupe, Fendika, includes amazing young Azmari artists led by one of Ethiopia's leading dancers Melaku Belay. Belay, who is one of the most active artists and arts advocates on the Addis Ababa scene today, is an innovative and virtuoso interpreter of Eskista. Belay performed at the Lincoln outdoors concert in 2008 with legendary saxophonist Gétatchèw Mèkurya and The Ex band.
Below is our recent interview with Debo's band leader Danny Mekonnen, standing front-right in the above photograph.
Tadias: The last time your band was in town, we danced all night. The lead singer makes it very easy.
Danny Mekonnen: Bruck is charismatic and humble, but he's also a very serious musician! I definitely think having him as a front man makes it easy for audiences to get into our music, even if they don't understand what he's singing about. One of the things that inspires me is knowing that what we do is unique — there's not a group anywhere in the world quite like us. Playing a diverse musical set is important to us because we love music from across the country and throughout Ethiopia's musical history. To only play music from the 1970s would miss out on great contemporary artists like Gossaye and Tsehaye Yohaness; we've played and studied several arrangements by Abegaz Shiota, as well. And to play only Amharic music with a chic-chic-ca beat, would miss out get Tigrigna and Oromo music, too. Ethiopia has a reach musical landscape and we try hard to honor that.
Tadias: How was Fendika received by U.S. audiences?
DM: U.S. audiences went crazy for the traditional dancing of Melaku Belay and his partner Zinash Tsegaye. I think seeing the dance of a culture immediately creates a greater appreciation and understanding of the music. And Melaku and Zinash are the best at what they do! We started working with Fendika (Melaku's group) in May 2009 on our first tour in Ethiopia. It helped that Debo Band's members hung out at Melaku's azmari bet – also called Fendika – every night that we weren't playing! So the friendship and bond grew in a very organic way.
Tadias: How excited are you about your upcoming appearance in New York this summer?
DM: I can't tell you how I excited I am to present Debo Band with special guests Fendika at Lincoln Center Out of Doors! I was at the historic concert in 2008 with Getachew Mekuria, Mahmoud Ahmed, and Alemayehu Eshete. I loved the collaborations with saxophonist and The Ex and vocalists and The Either/Orchestra. I think that audiences will remember Melaku as the dancer with Getachew and the Ex. I'm honored that my band is the next group to present Ethiopian music to Lincoln Center audiences. Also, I'm thrilled to have Melaku as the project's co-leader. He is a visionary Ethiopian artist and his work with Fendika is second to none.
Tadias: Any plans to come out with a CD?
DM: I hope to do more touring with Debo — this summer we are going to California for the first time. And hopefully we'll do our first European tour in 2012. Yes, we are planning to release a CD next year. I'm really excited about all that we have going on right now.
Tadias: On a personal note, we also hear that you recently became a father. Congratulations!
DM: Thanks so much. My daughter is a year and a half now. I'm not sure I have quite learned to balance work and family! It's always a struggle, but it helps to have a wife who's supportive of my band. It also helps that she's an artist and business owner herself!
Tadias: What kind of music do you listen to at home?
DM: I listen to all kinds of music. Lately I've been listening to a lot of Fleet Foxes, a great indie-folk band. But I go through phases where I listen to nothing but hip hop or experimental or Ethiopian music. My inspiration comes from all over including from my friends who are great musicians.
Tadias: Is there anything that you would like to add?
DM: I just want to add that this summer's tour with Fendika wouldn't be possible without the support of Lincoln Center. New York is lucky to be home to one of the largest and most artist-friendly performing artists institutions in the world. Our heartfelt thanks go out to Bill Bragin, Director of Public Programming at Lincoln Center, who is a big fan and supporter of both Debo and Melaku.
Tadias: Thank you Danny and good luck.
—-
If You Go:
All events are free and take place on Lincoln Center's Plaza between Broadway and Amsterdam Avenues, from West 62nd Street to West 65th Street (except where noted). Debo will perform on August 11th. Take No.1 IRT to 66th Street/Lincoln Center Station) OR the A, B, C, D and No. 1 trains to 59th St/Columbus Circle. Visit LCOutofDoors.org for complete schedule or call 212-875-5766 to request a brochure.
Photos courtesy of Debo band.
Video: Addis Ababa Bete – Debo Band with Fendika Dancers at Joe's Pub, NYC, September 2010

—