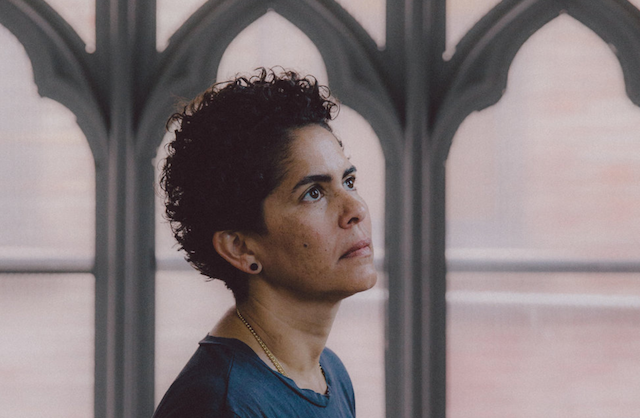 Julie Mehretu, a MacArthur Foundation "genius," is executing a monumental new commission for the San Francisco Museum of Modern Art.
Harlem, New York — The artist Julie Mehretu has been flying awfully close to the sun.
Soaring midair on a mobile platform inside an unused Harlem church, she has been working and reworking two towering paintings taking shape on opposite walls, a monumental commission for the San Francisco Museum of Modern Art.
For the last 14 months the vaulted neo-Gothic nave has served as Ms. Mehretu's temporary studio as she executes the most physically demanding, politically charged and collaborative work of her career. Later this month, her paintings will be installed in the museum's atrium, where they will remain on view for more than three years.
"These are my most American paintings," said Ms. Mehretu, 46, running her hand through her crop of dark curls as she contemplated the two radiant and complex canvases, each stretching 27 feet by 32 feet.
Ms. Mehretu made her first marks on the canvases in the days right after the November election. It was her shock that moved her to rapid action and she said the current "miasma" informed her improvisational language of roiling calligraphic brush strokes and erasures. She is interested in what "gestural abstraction" — her intuitive and personal expression — "can conjure in this political moment," she said, adding that the works "are trying to make sense of where we are in our country right now."
Read the full article at NYTimes.com »
—
Related:
Julie Mehretu: The Addis Show at Modern Art Museum Gabre Kristos Desta Center
Join the conversation on Twitter and Facebook.